You Might Like
On FacilitiesNet
Power Tool Productivity: Eye on Ergonomics
New generation power tools allow for putting more power in technicians' hands with advances in battery technology, monitoring and tracking, and ergonomics.
OTHER PARTS OF THIS ARTICLE
Pt. 1:
Power Tool Productivity: Battery Performance
Pt. 2:
Power Tool Productivity: Tracking and Monitoring
Pt. 3: This Page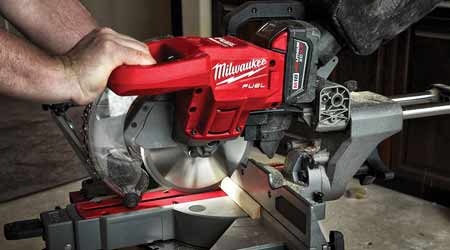 Eye on ergonomics
One-third of workplace injuries and illnesses result from musculoskeletal disorders (MSD), according to the U.S. Bureau of Labor Statistics. A frequently occurring injury is carpal tunnel syndrome (CTS). Its symptoms include pain and numbness in the hand and wrist, which can lead to progressive weakening of the wrist, serious injuries, and costly workers compensation claims. It also can sideline a worker for extended periods.
Power tool use can result in CTS due to the heavy lifting, pushing, pulling, repetition, awkward position,vibration and vibration involved in power tool use. New designs that aim to improve user comfort and minimize CTS and other injuries include handles that angled from the drill centerline, rather than at 90 degrees, to reduce wrist flexing under load.
These simple design changes, combined with improved grip, lighter weight, and better balance, reduce the force the user needs to support the tool. Drill bit materials such as high-speed steel, titanium, and coated metals are harder and stay sharp longer and, as a result, reduce the fatigue and lessen strain needed to support the tool and provide force as it penetrates metal and wood, or torques a fastener.
Knowing good tool positioning, how to sharpen a drill bit, keeping it sharp, and knowing the proper speed for different jobs reduce the force and time needed to drill, cut, or torque. With these skills properly applied, workers' state-of-the-art power tool use is less likely to cause MSDs and will be more productive with less effort. Selecting the right bit material –cold rolled steel for wood and high speed steel, titanium, or one of the alloys for metals- yields longer tool life and less strain on the user.
If a power tool vibrates a lot, it might be due to bearing or gear wear, a bent shaft or drill bit, a dull tool, the wrong tool material, or a combination. Technicians should be trained to recognize these conditions so they can be corrected right away. The tool room can help reduce these causes for carpal tunnel or other MSDs by inspecting tools when they are checked in before they are stored for the next use.
Thomas Westerkamp is a maintenance and engineering management consultant and president of the work management division of Westerkamp Group LLC, www.westerkampgroup.com.
Continue Reading:

Power Tools

Power Tool Productivity: Battery Performance

Power Tool Productivity: Tracking and Monitoring

Power Tool Productivity: Eye on Ergonomics
---
---
---
Related Topics:
Comments