You Might Like
On FacilitiesNet
Power Tool Productivity: Battery Performance
New generations of power tools allow for putting more power in technicians' hands with advances in battery technology, monitoring and tracking, and ergonomics.
OTHER PARTS OF THIS ARTICLE
Pt. 1: This Page
Pt. 2:
Power Tool Productivity: Tracking and Monitoring
Pt. 3:
Power Tool Productivity: Eye on Ergonomics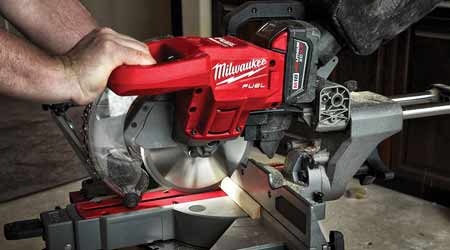 Power tools have long been the workhorses of maintenance and engineering departments. Now, new-generation power tools are seeking to enhance the capabilities and range of front-line technicians in institutional and commercial facilities.
While managers understandably focus on power, speed and versatility when specifying power tools — including saws, drivers, and drills — they can ensure new tools contribute to technician productivity also by paying attention to several additional functions and features, including battery technology, tracking and monitoring capabilities, and ergonomics.
Battery performance
All power tools benefit from advances in battery performance. The workhorse in the 18-volt category has been the nickel cadmium (NiCad) battery because it offers an appealing combination of weight, performance and cost. Lithium-ion (Li-Ion) batteries tend to be more efficient in the 10.8- and 40-volt classes.
New Li-Ion battery designs offer a number of performance benefits. Power is more constant through the discharge cycle, and they can be re-charged any time in the discharge cycle without losing capacity. They also offer a lower self-discharge rate of 1.25-5 percent per month compared to as high as 30 percent with NiCad batteries. NiCad batteries can sustain a robust 1,000 charge cycles, while Li-Ion batteries typically sustain only 300-500. Li-Ion batteries run longer between cycles, though, so their lower cycles rating is not as big a disadvantage over a two- to three-year life.
In addition, Li-Ion batteries' ratio of power capacity to weight is greater overall than that of other battery types. Other factors that make Li-Ion a popular choice include a capacity of up to 5 ampere-hours (Ah), a relatively short charging time of three hours, and minimal maintenance.
Earlier-generation Li-Ion batteries did not stand up to heat and impact as well as some other battery types, but with new technologies, such as improved cooling systems and more rugged housing design, they are now competitive in these areas.
Temperature extremes can affect battery life, so keeping the battery cool extends its performance life, as does avoiding operating below zero degrees. Li-Ion batteries generally offer more power and longer life, and they are lighter weight. These high-performance factors have resulted in their steady increase in popularity. A Li-Ion three-battery pack design delivers up to 20 volts at 5Ah, or 100 watt-hours — volts multiplied by Ah — power capacity.
Combination tool packages offer greater flexibility related to batteries. For example, four-tool packages that include a ½-inch drill, a ½-inch circular saw, a reciprocating saw, and a work light operate from the same 20-volt Li-Ion battery design. The package includes two battery packs, a charger and a carrying case. Technicians can recharge one battery pack in the shop or at the job site while using the other pack in the tool on the job, providing longer service life and enhance productivity. A six-tool version includes an impact driver, drill/driver, reciprocating saw, circular saw, oscillating multi-tool, and worklight. The tools come with two Li-Ion batteries, bag and two belt clips. The tools have keyless, precision bit chucks and blade clamps for quicker changes.
Specifying the right charger also can extend battery life. New charger designs offer heat-reducing features, sensors, and electronics that optimize battery charging according to battery type. It pays to follow two rules when selecting a charger. First, make sure the charger is suitable for the type of battery being charged. Second, select the most expensive charger available because it will have more performance tracking and battery-protection features. The charger is not an item to select based on lowest cost.
Continue Reading:

Power Tools

Power Tool Productivity: Battery Performance

Power Tool Productivity: Tracking and Monitoring

Power Tool Productivity: Eye on Ergonomics
---
---
---
Related Topics:
Comments