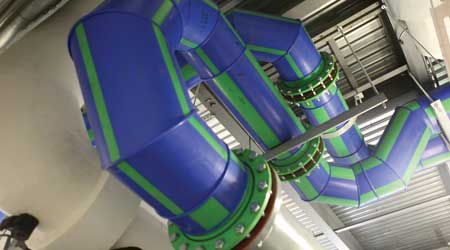 Plastic Pipe: Facility Managers Should Know Their ABCs
Facility managers planning a plumbing, hydronics, or fire sprinkler project should invest some time in understanding the alphabet soup of plastic pipe options.
With the plastic pipe industry touting benefits like lower costs and easier installation, it's no surprise manufacturers report that their products are being used more widely in commercial and institutional facilities. Facility managers planning a plumbing, hydronics, or fire sprinkler project should invest some time in understanding the alphabet soup of plastic pipe options.
Plastic pipe got its start in Europe after World War II, when it was introduced as a stop-gap measure to replace unavailable materials like iron, copper, brass, and steel. But plastic pipe performed well enough to justify continued use, and over time, with the introduction of new technologies, plastic pipe became a mainstream option, says Lance MacNevin, director of engineering, building and construction division, Plastics Pipe Institute. "A customer looking at adopting one of several plastic pipe materials is not taking a risk with something that is brand new. These materials are proven."
One key benefit is lower cost. The materials cost less than metal, and because plastic pipe is lighter it's easier and faster to install. Joining sections is also easier because no open flames are required, so a hot work permit isn't needed in existing buildings.
"Open flames on retrofits or remodels are especially treacherous because you don't know what's behind the wall," says Michael Cudahy, regulation and sustainability specialist, Plastic Pipe and Fittings Association.
Industry sources also point out that plastic resists the formation of biofilm and doesn't corrode. As a result, the commercial hydronic system using plastic pipes requires fewer water treatment chemicals, says MacNevin.
Plastic pipe is accepted by all model codes. A few areas still restrict its use. "If you're in a jurisdiction with some limitations, you can always approach your code officials and ask to use (plastic pipe) as an alternative means and methods," Cudahy says. "A lot of jurisdictions will ok that very quickly for you."
Not all the same
Although plastic pipe options have many of the same benefits, the materials from which they are constructed are not the same. "They differ dramatically in their composition and their ability to withstand heat, cold, and pressure," says Barry Campbell, vice president of marketing for Aquatherm.
Facility managers don't need a degree in chemistry to understand the practical differences in materials. Keeping some basic factors in mind can help ensure that a particular form of plastic pipe is a good fit for a specific application.
CPVC (chlorinated polyvinyl chloride), PEX (cross-linked polyethylene), and PP (polypropylene) are families of products. PEX, for example, comes in three versions: PEX-a, PEX-b, and PEX-c. The letters represent different manufacturing processes, not grades, and all are required to meet the same standards. PEX-a was developed first and offers the most flexibility.
PP-R (polypropylene random copolymer) has been used in Europe since the 1980s, while PP-RCT (polypropylene random copolymer with modified crystallinity and temperature resistance) was introduced in Europe in the first decade of this century, according to the Plastics Pipe Institute. "The latter provides improved pressure resistance at elevated temperatures," says Michael Nicholson, business director, PP-RCT, Uponor.
CPVC, PEX, and PP pipes commonly used in potable hot- and cold-water systems are rated for up to 100 psi at 180 degrees Fahrenheit, but there are a variety of wall thicknesses available in some products, giving facility managers a choice for many applications. Check with the manufacturer.
One fundamental consideration for narrowing options is chemical compatibility. While all the materials can handle a wide range of liquids, it's important to understand limitations and potential problems. For example, with plumbing applications, a main consideration is resistance to disinfectants like chlorine, MacNevin says.
"CPVC is the only common piping material that is unaffected by chlorine and other chlorine-based disinfectants," says Rob Janowiak, Corzan market manager, North America, Lubrizol.
Other piping materials are formulated to resist chlorine. "The specifier has to verify that the piping material has the appropriate level of chlorine resistance," MacNevin says. "This is established through testing according to ASTM Test Method F2023. It isn't hard to find a material that meets chlorine resistance requirements, but not all of them do."
Chemical compatibility issues also include the iron and copper content of water circulating through the pipe, and the nature of chemicals being transported through the pipe.
"You've got to make sure the material will meet the requirements of the job," says Nicholson. "Verify that anything running through it is compatible with it."
It's also important to be aware of the outside of the pipe. PEX, for example, can tolerate only limited exposure to UV rays from sunlight. CPVC is sensitive to extreme cold temperatures during installation. Ancillary products used in buildings, like fire caulk and pesticides, can create issues for some plastic pipe, says Janowiak. "Every material has another material it does not react well with, so it is important to ensure your piping material of choice has compatibility details or a program available to it."
Continue Reading:

Plastic Piping

Plastic Pipe: Facility Managers Should Know Their ABCs

Size, Materials Play Crucial Roles in Plastic Pipe Selection
---
---
---
Related Topics: