Facility Manager Cost Saving/Best Practice Quick Reads RSS Feed
Advances in LEDs Bring Architectural Performance to Commercial Products
December 1, 2016 - Contact FacilitiesNet Editorial Staff »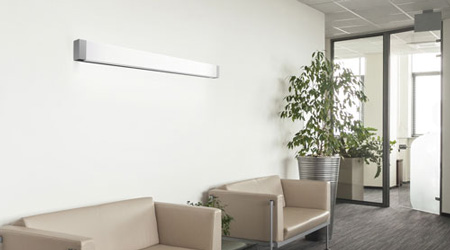 Owners of commercial and institutional facilities are likely seeing tremendous benefit in the commoditization of LED technology and advancement or integration of complementary technologies (i.e. controls.). These benefits are bringing to fruition new, unique and cost effective light fixtures at commercial price levels but with the quality and appearance of architectural design.

This has brought about a convergence between the commercial and architectural sides of the market. While this convergence brings with it new challenges, it also presents new opportunities, one of which has been the application of modularity in the design of the fixtures. This new ability for modularity allows for flexible lighting systems that can utilize interchangeable aesthetics or have the ability to be scaled in size and output to fit the needs of the lighting design in a particular space.

This modularity also brings additional cost savings due to easy maintenance. Quick access to components and interchangeability allows the fixture to be easily maintained, avoiding the need for a replacement, which additionally incurs soft costs along with it.

Another benefit of this interchangeability is the ability for a facility owner to update the building's design or aesthetics by simply changing out certain components such as lensing or door frames. All of this provides some level of future proofing that further prolongs the life of the fixture for the owner.

What About Controls?

Complimentary technologies have also been on the rise, ranging from controls, integrated communication and color tuning. Although much of this technology is still in its infancy as it relates to adoption, many manufacturers have begun to see the market become more accepting and knowledgeable of these technologies and how they should be applied.

Wireless controls embedded in the luminaire itself are a great example. A few years ago, most specifiers and facility owners were strongly reserved in their approach to wireless controls due to legitimate concerns about cost, reliability and ease of use. But today's wireless systems have evolved to be cost effective solutions and easily useable for building owners. Going forward, we will start to see these systems expand to incorporate low-voltage power and control distribution over the same line connection. This adds another level of not only control but data management and intelligence for the system owner.

Giving Tenants What They Want

In a recent AIA study, architects and building owners noted they are beginning to place greater emphasis on the impact of design decisions on human health. Nearly 75 percent of architects and 67 percent of owners say health considerations now play a role in how their buildings are designed, indicating that healthy environments have become an important tool in marketing to tenants and consumers.

This opens the door for one of the rising trends in the lighting world: color tuning or tunable white systems. This has been driven largely by lighting's impact on health and vitality, in addition to added support by the demand for user control and preference.

Much of this technology is still early in adoption, and facility managers are still learning how it can be applied in particular applications. The writing is on the wall, however, and the impact will become clear shortly. Healthcare has been one such market that has quickly adopted this technology simply because of the benefits on the patients' well-being and recovery within these facilities.

As a result of these advances in lighting technology, building owners should begin to ask more targeted questions in regards to fixture design and ability to be maintained or modified over time. They should focus on key items, such as maintenance, replacement of components, ability to tailor lifetime as well as light levels, and also the ability to integrate controls.

In addition, owners should ask about the manufacturer's ability to support proposed products over time as LED systems now have a greater life cycle than legacy technologies. Through this analysis, building owners will be able to tailor lighting systems that meet their specific needs rather than a solution that is tailored to a more widespread or general targeted audience.

Tom Veltri is product manager, new product innovation at Hubbell Lighting. He was appointed to the 2016 DesignLights Consortium (DLC) Industry Advisory Committee (IAC) in 2016 and he applies his experience to design products that respond to the rapidly evolving lighting industry. Veltri can be reached at tveltri@hubbell.com.

This Quick Read was submitted by Naomi Millán, senior editor of Building Operating Management magazine, naomi.millan@tradepress.com. For the latest in LED lighting products, go here.
---
Comments