Ohio School District's Outdoor LED Upgrade Yields Significant Savings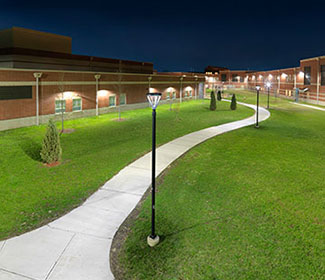 Maintenance and engineering managers seeking savings on outdoor lighting in institutional and commercial facilities are turning to LEDs for solutions to their energy consumption issues
June 3, 2015 - Lighting
Maintenance and engineering managers seeking savings on outdoor lighting in institutional and commercial facilities are turning to LEDs for solutions to their energy consumption issues.
When the 42-school Toledo Public Schools sought to address its energy-saving issues, the maintenance and operations department looked replacing the 2,553 outdoor metal halide and high-pressure sodium lights with LED luminaires.
The maintenance and operations department chose Cree LED lights because of the product longevity, low maintenance and the 10-year limited warranty.
"Cree had a 10-year warranty when everyone else offered seven years or less," says Ron Miller, the district's energy consultant. "The lighting quality is there and the fixtures are good quality — well built. The district likes the performance, price point, and how it looks compared to other lights on the market. In addition, the lighting enhanced the look of the schools. Cree luminaires come in many colors so we could choose colors to complement the architecture of each school."
Outdoor lighting at 42 schools was upgraded in a one-to-one replacement with LED lights. Using existing poles, OSQ Series luminaires replaced flood and area lights in the parking lot, CPY Series replaced canopy lights at the school entrances, Edge™ Series replaced walkway lights, and XSP Series Wall Packs replaced existing accent lighting.
The crisp, white light of the luminaries can create a safe atmosphere for students, administrators and visitors.
The project helped the district reduce energy consumption by 2.8 million kilowatts, equating to $254,000 annual savings.
One district high school will see 69 percent energy savings based on watt reduction. The district anticipates a lifetime savings of $125,072 on maintenance costs by not having to send staff and trucks out to replace bulbs. The energy and maintenance combined equals a 1.8-year payback period.
In addition to the energy and maintenance savings, the district secured $140,000 in utility rebates.
"Most schools are progressive on energy savings. People care and like to see projects that have an obvious payback," Miller says. "The initial cost of a large LED project like this seems high; however, when you look at the energy numbers, the payback time and the maintenance savings, it was clearly the right type of project for (the district) to take on. Any savings on energy can then be directed toward the classroom."
The advantage of LEDs doesn't stop at cost savings. The schools are benefiting from the crisp, white light creating excellent visibility and a safe atmosphere in parking lots, entrances, walkways and building perimeters.
Following the success of the outdoor project, Miller says the district is looking into the possibility of installing LEDs inside the schools.
"Funding is always an issue, but upgrading to LED lighting is a clear decision. I don't want to say it's a no brainer, but the numbers are what they are and it just makes sense," Miller says.
---
Comments