Building's New Illumination System Lights Up Little Rock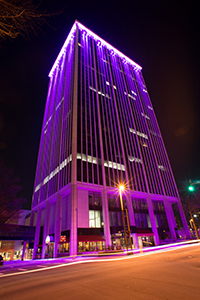 June 15, 2015 - Lighting
Opened in 1969, the Union Plaza Building is situated in the center of the financial and legal district in Little Rock, Ark. The 230,000-square-foot building contains restaurants and coffee shops, retail locations, and a U.S. Post Office.
The fifth largest building in the city is easily identified. Its façade, fabricated of steel, concrete, granite, aluminum, and glass, is marked by expansive granite columns soaring to create a unique pin-stripe effect.
Unfortunately, the existing lights to highlight the building's structure were hard to maintain. As a result, the fixtures were only being serviced once a year. The solution revolved around long-life fixtures that once installed didn't require maintenance and provided more consistent light.
The existing HPS fixtures were replaced with Dyna Drum HO and Dyna Flood QA luminaires from Acclaim Lighting. The new LED color changing fixtures were placed around the building, 15 feet from the top of the building. Each fixture is individually addressed to allow independent control. This set up creates the ability to create a band of color around the top that is independent of the downlighting.
The Dyna Flood QA contains four colors, RGB+amber, under a single lens. Because Acclaim Lighting's quad-color technology mixes the colors under the lens, unlike traditional technology that mixes color outside of the lens, the luminaires deliver precise color matching.
The luminaires offers beam angles of 20, 40 and 60 degrees, and provides 1,233 lumens with efficacy of 20.55. Consuming 60 watts, the units retain 70 percent of brightness at 50,000 hours.
Designed for facade and large-scale area flood lighting, the Dyna Drum HO features an adjustable yoke with onboard 180-degree flip inverted digital control display for menu selections and addressing. With its 100-277-volt AC internal power supply, the fixtures consume 270 watts, and replace traditional 400-watt outdoor discharge fixtures.
The color-changing fixtures feature RGBW chips, while the single-color version is available in 2,700, 3,000, 3,500, 4,000, and 5,500 K, providing a lumen range of 9,000 to 17,232 at 5,500 K. The fixtures are available in beam angles of 6 degrees standard, with 25-, 40-, and 60-degree-spread lens options.
Of the several major improvements made to the 21-story Union Plaza Building, none have been as dramatic as its new exterior lighting system, which has transformed the nighttime skyline in Arkansas' capitol city.
---
Comments