You Might Like
On FacilitiesNet
SIDEBAR: Retrofit Rebates
Lighting system upgrades offer many utility rebates. Part three of a three part series.
OTHER PARTS OF THIS ARTICLE
Pt. 1:
LED: Lighting Advances Lead to Greater Energy Savings
Pt. 2:
LED: Implemeting Lighting Controls Can Save Even More Energy
Pt. 3: This Page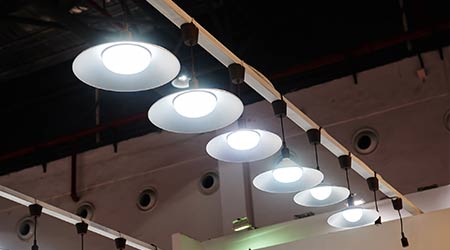 A Closer Look: Retrofit Rebates
To improve payback for lighting system upgrades involving controls, maintenance and engineering managers should check for available utility rebates. In 2016, commercial lighting rebates covered 79 percent of the United States, with many focused on LED lighting and controls, according to BriteSwitch, a rebate fulfillment company.
In the case of controls, average rebates cover a significant portion of the installed cost. The most popular control rebates cover occupancy sensors, light sensors and daylight dimming systems. In 2016, the DesignLights Consortium launched a Qualified Products List for Networked Lighting Controls, which is spurring the development of new rebates oriented around these advanced control options.
The most lucrative energy-saving upgrade options involving fluorescent luminaires include tubular LED (TLED) replacement lamps, retrofit kits and new luminaires. New luminaires generate higher energy savings than TLED lamps while providing greater options for lighting control.
Retrofit kits package lighting and optical components into a repeatable solution, effectively producing a new luminaire with similar control options but typically at a lower installed cost. TLED lamps featuring a dimmable LED driver offer dimming options. Typically, existing dimming ballasts will not support plug-and-play — Underwriters Laboratory Type A — TLED lamps, so managers must be sure to verify the compatibility of all installed and considered elements.
Meanwhile, similar options exist for high-intensity discharge luminaires, including replacement lamps, retrofit kits, and new luminaires. Because LEDs are instant-on, switching to LEDs automatically creates an opportunity to save energy with occupancy sensors.
Most replacement lamps are not dimmable, and new luminaires offer a broad range of control options. As with fluorescent to LED upgrades, an excellent middle-of-the-road option in terms of cost and benefit is the retrofit kit. LED retrofit kits typically are fitted with dimmable drivers that can connect to control systems for more flexible control.
— Craig DiLouie
Continue Reading:

Lighting

LED: Lighting Advances Lead to Greater Energy Savings

LED: Implemeting Lighting Controls Can Save Even More Energy

SIDEBAR: Retrofit Rebates
---
---
---
Related Topics:
Comments