You Might Like
On FacilitiesNet
Networked Controls Add Big Savings To LEDs
Using LEDs and networked lighting controls in tandem has significant energy efficiency benefits.
Building owners and facility managers have a largely untapped potential for savings through LED installation, with even greater opportunities for savings available by installing networked lighting controls simultaneous with LEDs.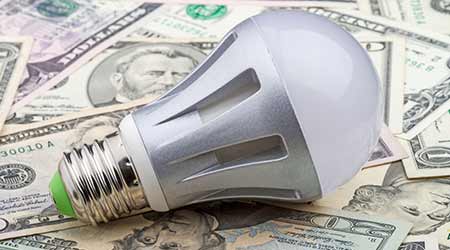 Energy use is the single biggest operating expense for the nation's commercial office buildings, accounting for about a third of typical operating budgets, according to the Energy Star program. While this statistic probably comes as no surprise to building owners and facility managers, it's a sobering one nonetheless — especially with the same source noting that up to a third of energy consumed is wasted. And the U.S. Energy Information Administration reports that 17 percent of all electricity consumed in United States commercial buildings powers lighting, making it the largest single end use of electricity.
By 2035, the Department of Energy predicts that LEDs will constitute 86 percent of all lighting products in the United States, saving electricity equal to the total consumed annually by 45 million homes and reducing energy costs by nearly $52 billion. With LEDs already nearing market saturation in the residential sector, the vast bulk of the projected savings will derive from aggressive adoption of LEDs in the commercial and industrial sector, where the technology is now at less than 13 percent market adoption.
Capitalizing on this opportunity hinges on rapid, widespread commercial adoption of networked lighting controls — systems that link up lighting fixtures, sensors, and switches either wirelessly or through control wiring. Creating a foundation for "smart" buildings in which individual fixtures or zones are easily adjusted for changing conditions and space usage, networked lighting controls can facilitate huge savings in building energy use. According to the July 2018 DesignLights Consortium report, "Energy Savings Potential of DLC Commercial Lighting and Networked Lighting Controls," networked lighting controls can cut energy use by an average of 47 percent compared with savings from LEDs alone and provide additional savings from peak load reductions. Considering Energy Star's calculation that a 10 percent decrease in energy use can produce a 1.5 percent increase in a company's net operating income, the bottom line advantages of networked lighting controls are clear.
Perhaps less obvious are the non-energy benefits companies stand to reap. According to Energy Star, "studies have found that superior energy performance contributes to increased employee productivity and health." Having the ability to integrate with other building systems such as HVAC and energy management, networked lighting controls not only provide enhanced energy savings, but are a gateway to more intelligent use of building space, increased personal control and comfort, and better building diagnostics. Through networked lighting controls, for example, facility managers can receive daily diagnostic reports of lights that are out or in need of attention, and can easily reconfigure lighting controls in response to changes in the space or to address complaints.
If done properly, the combined benefits of this technology can be a true game-changer, capable of not only saving money and combating climate change (commercial lighting accounts for about 6 percent of annual greenhouse gas emissions worldwide), but also eliminating myriad headaches for facility managers seeking to maximize the comfort and functionality of company work spaces.
Analysis Shows Savings from Networked Lighting Controls with LEDs
An analysis of five separate advanced networked lighting control projects published by Pacific Northwest National Laboratory (PNNL) for DOE in May 2018 illustrates the advantages of the technology in a variety of commercial sites, including office buildings, a micro-brewery, a medical office, and a large grocery store. The study measured energy use and savings related to replacing existing fluorescent lighting with LED fixtures alone and with advanced lighting controls. Across the board, installing networked lighting controls gave a significant boost to savings achieved through LEDs alone. While energy savings from transitioning from fluorescents to LEDs averaged 43 percent, the inclusion of networked lighting controls pushed average savings to 66 percent.
A Stop & Shop store in New Bedford, Mass., for example, estimated total annual savings attributable to the networked lighting control project at 66 percent — cutting electricity use by 439,300 kilowatt hours (kWh) for an annual cost savings of $65,985, with a project payback calculated at 7.5 years once Eversource utility rebates are applied. In addition, store managers embraced the new system's ability to seamlessly tune lighting for different store department needs and various times of day.
Similarly, the owners of Two Roads Brewing Company in Stratford, Conn., reported appreciating their new LED control system's "advanced software options that allow for customization of light levels and schedules to meet application and occupant needs," according to the PNNL report. New LED fixtures with networked controls provided energy savings of 66 percent at Two Roads — representing a reduction of 95,000 kWh and cost savings of $13,800 annually. With application of a local utility incentive reducing the installation cost by 40 percent, the project is expected to pay for itself in savings in about seven years.
The PNNL examples illustrate the wisdom of including networked lighting controls whenever building owners are contemplating installation of LED lighting. Not installing networked controls when new lighting goes in risks missing a unique opportunity to transition to smart building infrastructure. Given how long tubular LEDs will last, failing to add advanced controls at the time of installation potentially strands both the window for innovation and the associated additional savings.
There is a significant economic benefit for building owners and facility managers to install LEDs and networked lighting controls at the same time, since labor comprises much of the cost of installing new lighting. By installing both simultaneously, building owners and facility managers can also eliminate potential equipment compatibility issues by ordering fixtures with controls pre-installed. Utility incentives, which reduce installation cost and improve payback, are also more likely to be available for projects making the initial jump to LEDs from less efficient lighting.
Continue Reading:

Lighting

Networked Controls Add Big Savings To LEDs

Steps To Overcome Obstacles To Networked Lighting Controls
---
---
---
Related Topics:
Comments