Managers Can Specify a Combination of Lighting Technologies
Part 2 of a 4-part article on lighting controls
OTHER PARTS OF THIS ARTICLE
Pt. 1:
Lighting Controls Achieve Next-Generation, Maintenance Cost Benefits
Pt. 2: This Page
Pt. 3:
Application Issues With Lighting Control Systems
Pt. 4:
LEDs Popular Retrofit Choice for Lighting Control Systems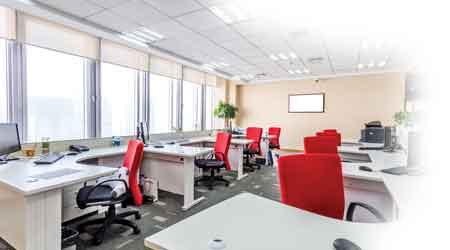 Managers can specify a variety of equipment and options to enact one lighting control strategy or a combination of strategies.
Manual controls. These controls allow local adjustment of light levels. They include switches, wall box dimmers, programmable integrated dimmers, and wall stations interacting with a remote dimming panel.
Panel-based lighting controls. These control systems feature a logic controller and power-output device to switch or dim lights. The logic controller can schedule loads to switch or dimming according to occupancy and in response to input from other control devices, such as light sensors.
Panel-based controls include contactors, controllable circuit breakers and relays housed in a metal enclosure. Various dimmers can enable dimming. These systems commonly are networked to provide remote programming, monitoring and override control. Some offer onboard metering capability.
Occupancy-based controls. Occupancy sensors save energy by automatically reducing lighting when a space becomes unoccupied.
The sensors might be manual-on — vacancy sensor — auto-on-to-50-percent, or auto-to-full-on. They might switch or dim the load. Sensors can use various technologies, including: passive-infrared sensing, which detects the movement of heat; ultrasonic, which detects changes in reflected sound waves; acoustic, which detects sounds indicating human occupancy; or a combination of the technologies.
The sensor can mount on the wall or ceiling or within a light fixture or workstation. One other occupancy-based option is a simple timer switch, which is well suited to small spaces that are used briefly and intermittently, such as utility closets.
Photocontrols. These systems are based on a light sensor that generates a control signal indicating the lights should reduce to save energy in response to available daylight. The control system can be open-loop, which responds only to daylight, or closed-loop, which responds to both electric and daylight to maintain a target light level. Dual-loop sensors are available that claim greater reliability. The sensor might mount on the wall or ceiling or within a light fixture or control device. Some occupancy-based controls offer a daylight hold-back feature, which prevents the lights from turning on automatically when current light levels are sufficient.
Dimmable ballasts and drivers. All lighting systems, aside from incandescent lamps, require a dimmable ballast or driver. This device might communicate with control devices using low- or line-voltage wiring, and it might offer continuous dimming, which is the smooth transition between output levels expressed in imperceptible increments across a range, or step dimming, which is the abrupt or smooth fade transition between one or more output levels between off and full on.
Lighting controls can be standalone devices or systems used to control single lighting loads, rooms, buildings or entire campuses. Devices can communicate via low- or line-voltage wiring to interact as systems. Tying the system to one control point, such as a PC loaded with graphical software, enables centralized commands and scheduling, as well as the potential for generating information managers can use for measurement, verification and analysis.
Continue Reading:

Lighting

Lighting Controls Achieve Next-Generation, Maintenance Cost Benefits

Managers Can Specify a Combination of Lighting Technologies

Application Issues With Lighting Control Systems

LEDs Popular Retrofit Choice for Lighting Control Systems
---
---
---
Related Topics:
Comments