LED Retrofits: Adjust Timing Delay for Energy Efficiency
LEDs are known for their energy efficiency, but to achieve even better results, here are some tips on how to use occupancy sensors effectively.
OTHER PARTS OF THIS ARTICLE
Pt. 1: This Page
Pt. 2:
Occupancy Sensors: Best Practices for Product Selection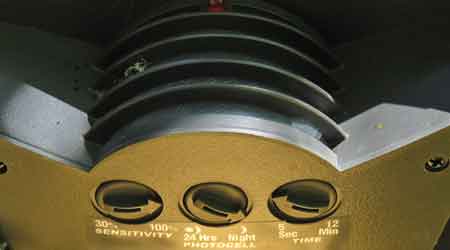 An LED lighting retrofit can make a facility manager a hero in the organization because of the energy savings and reduced maintenance costs that the upgrade provides. But most facility managers aren't aware that they can save significantly more energy, over and above the savings from the LEDs, simply by reducing the time delay on occupancy sensors. What's more, reducing the time delay will improve both safety and occupant satisfaction, and there's research to prove it.
The time delay is the time duration that lights stay on after occupants leave a space, when lights are controlled by occupancy sensors. This is time when the lights are on but no one is in the space. Energy codes and standards, like the International Energy Conservation Code, typically require that this delay not be longer than 30 minutes. But there's no reason that the lights should be on for 30 minutes while the space is unoccupied. Recent research has shown that facility managers can reduce this time delay significantly, which can even substantially increase savings, even doubling savings or more, while not reducing safety or occupant satisfaction, and in fact improving them.
Think about your building. How frequently do people enter lobbies, corridors, stairwells, bathrooms, copy rooms, elevators, and even offices or conference rooms, or spaces like kitchenettes, mail rooms, and the like? In other words, what is the time between one person leaving a space and the next person entering the space? Typically, it's more often than every 30 minutes. If that's the case, and the lights are controlled by occupancy sensors, and the time delay is set for 30 minutes, the lights are going to stay on all the time.
With fluorescent lights, or outdoor HID lights, facility managers didn't want to reduce the time delay, for fear of reducing the life of the lamps. But with LED lighting, reducing the time delay does not reduce the life of the lamps. And the added savings are substantial.
Energy savings
How much can be saved by reducing the time delay? A study examined potential savings in medium-rise apartment building corridors. With a 30-minute time delay, energy savings were 24 percent. With a 30-second time delay, energy savings more than tripled, to 74 percent. For other space types, savings are smaller, but are still measurable. For example, in the same medium-rise apartment buildings, lighting energy savings in stairwells went from 60 percent to 78 percent when the time delay was reduced from 30 minutes to 30 seconds.
For different space types, the savings depend on how long your current time delay is, and how short you go. One recent study, also for lighting in corridors, found that savings increased from 69 percent for a 15-minute time delay to 78 percent for a 5-minute delay.
---
INFOGRAPHIC: Timing Delay Tips

Continue Reading:

Lighting Controls

LED Retrofits: Adjust Timing Delay for Energy Efficiency

Occupancy Sensors: Best Practices for Product Selection
---
---
---
Related Topics:
Comments