Hospital Seeks Turnkey Solution for LED Exterior Lighting Upgrade
Part two of four-part article on an exterior LED upgrade at California hospital
OTHER PARTS OF THIS ARTICLE
Pt. 1:
California Hospital Paves Way for Systemwide LED Exterior Lighting Upgrade
Pt. 2: This Page
Pt. 3:
Hospital Officials Specify LEDs for Exterior Lighting Project
Pt. 4:
Health Care System Saves More than $1 Million in Maintenance, Energy Costs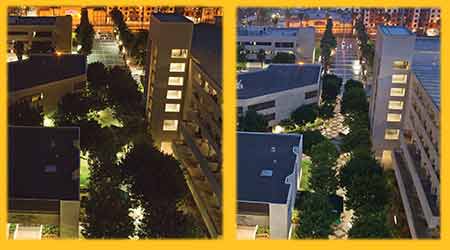 Photo: Acuity Brands
When vetting vendors, Dignity Health emphasized it wanted a turnkey approach for the exterior lighting project. Dignity wanted the vendor to handle all aspects of the project — surveying the site, specifying fixtures, scheduling installations, gaining necessary permits, applying for rebates, and startup duties.
The turnkey approach was important because the project required 17,500 fixtures — hundreds of different product types — at 38 facilities. The range of the facilities and applications, from parking lots and ramps, walkways, and emergency, general public, and employee entrance areas, made specification a challenge.
Dignity's facilities ranged in size from a 20-bed, 17,000-square-foot hospital to St. Joseph's Hospital Medical Center in Phoenix with 500 beds and 1.6 million square feet. The oldest facility was 70 years old, and the various fixture voltages were 120-480 volts.
"The vendor had to be ready to respond with several versions of the more prevalent fixtures in three or four different voltages, as well as several different lumen outputs and distribution patterns in order to optimize the photometric results," Gerner says.
The vendor also had to make adjustments if any surprises emerged.
"From the first several projects, we learned that we needed to test a larger number of existing lights for voltage because they varied even within some parking areas and that it was a best practice to document the status of the older lighting circuits in a side-by-side walk just prior to starting any section of an upgrade," Gerner says.
As the first facility to be upgraded, St. Mary played an important role in the project's progression. Turning over tasks such as specification and installation for the $258,000 project after rebates reduced many of the responsibilities for Garibay, but his knowledge of the building proved essential to the contractors.
"They'd request for me to shut off power and ask where power was coming from," he says. "I would assist in that way, since they did most of the stuff on their own. I would also help locate areas where they could store containers and provide safe locations. We also helped with questions about circuitry. We helped them with any kinds of wiring diagrams and layout of the hospital."
Garibay said the chosen contractors helped ensure the upgrade's success.
"The people who came in were very good," he says. "They didn't need us a lot. They came in and knocked it out and were gone. Sometimes you deal with vendors and they give you issues and problems, and they don't work out."
Gerner praised Garibay's efforts in helping the project go smoother than anticipated.
"If you're going to undertake a project like that, it's really nice to have someone like Joe who knows the plant, knows where all the rooms are, and has all the connections," Gerner says. "It really expedites the process and makes the installation smoother if you've got that guy."
Continue Reading:

Project Management: Lighting

California Hospital Paves Way for Systemwide LED Exterior Lighting Upgrade

Hospital Seeks Turnkey Solution for LED Exterior Lighting Upgrade

Hospital Officials Specify LEDs for Exterior Lighting Project

Health Care System Saves More than $1 Million in Maintenance, Energy Costs
---
---
---
Related Topics:
Comments