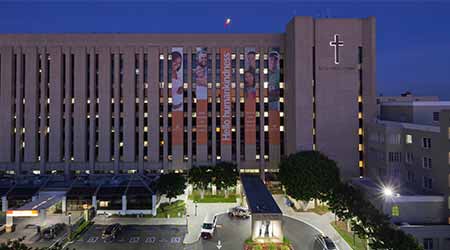 Photo: Acuity Brands
California Hospital Paves Way for Systemwide LED Exterior Lighting Upgrade
Part one of a four-part article on healthcare lighting retrofits
The core mission of a health care facility related to patient health, safety and comfort is always a higher priority than improving the building's exterior lighting system.
But when employees and visitors started fearing for their safety when approaching and leaving St. Mary Medical Center in Long Beach, Calif., because the lighting around the hospital was insufficient, the owners of the facility, Dignity Health, recognized the problem.
"Many employees and visitors who arrived in the evening complained about burned-out lights and dark areas," says Joe Garibay, the St. Mary engineering manager, who adds that outdoor lighting at hospitals is a nationwide issue. "A lot of (engineering managers) say it's budget. They don't have the money to replace the systems, but they really need them badly."
Dignity Health owns 38 hospitals in California, Arizona and Nevada. Many of the facilities are similar to St. Mary — older, urban hospitals featuring outdoor lighting systems that date back to the 1990s and sorely need upgrades to improve energy efficiency and security.
St. Mary, the first Dignity property in line for an upgrade, is a 389-bed, 791,000-square-foot facility. It includes an eight-level parking ramp, five smaller parking lots and six clinics. When Dignity started its $9.6 million campus exterior lighting project in 2014, St. Mary featured many of the deficiencies that the health care provider hoped to improve.
"It pretty well represented the breadth of the challenge for the providers," says Paul Gerner, Dignity's director of corporate real estate. "It made sense for us to solve the lighting problems because of the aesthetic value that it has in the framework of trying to do an overall aesthetic upgrade. In trying to improve the customer experience, it made sense in that context."
Mounting maintenance
The security of employees and visitors at St. Mary emerged as an issue when people started requesting escorts to the bus stop or their vehicles when leaving the hospital after dark. The burned-out lights also placed a burden on the maintenance staff. Taking the time to address them often took a backseat to more pressing matters inside the hospital, where breakdowns of critical systems might create a life-and-death situation.
Garibay says he scheduled maintenance for the exterior lighting systems "when we had guys available to go out there and do it. If we didn't have the time, we'd call for an outside company, and every month, something was going on. We have a lot of lights outside, and we have clinics that have exterior lighting and a lot of blind spots."
The failing exterior fixtures turned into an ongoing saga for the maintenance staff.
"The halogen lights we had were terrible," Garibay says. "We had numerous dark areas, and those halogens gave out so much heat they turned plexiglass yellow. There was not enough light, and just a lot of work to replace them. Every time we replaced one, another burned out. It wasn't just the light itself, it was the whole fixture you needed to replace."
Continue Reading:

Project Management: Lighting

California Hospital Paves Way for Systemwide LED Exterior Lighting Upgrade

Hospital Seeks Turnkey Solution for LED Exterior Lighting Upgrade

Hospital Officials Specify LEDs for Exterior Lighting Project

Health Care System Saves More than $1 Million in Maintenance, Energy Costs
---
---
---
Related Topics: