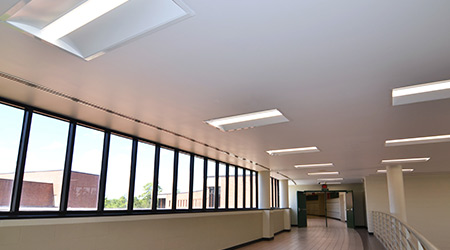 CASE STUDY: LED Lessons: School District Taps into Benefits of Upgraded Lighting
When switching its lighting system from fluorescent to LED, one Houston-area school district had three goals in mind: save money, save energy and create a better learning environment.
With the help of a local lighting manufacturer, that school district is now projected to save hundreds of thousands of dollars, dramatically lower environmentally harmful emissions and, most importantly, give students, faculty, and staff an environment where they will be more alert and be able to concentrate easier.
The problem
Located north of Houston, the Conroe Independent School District (CISD) includes 60 campuses that support the education of 56,000 students. Over the past 10 years, the school district has experienced significant growth, and because of its close proximity to the new North Houston energy corridor, it is expected that this growth will continue in the future.
While the expansion of the school district is seen as a positive, it does have some drawbacks, most notably that as CISD continues to grow, its maintenance costs also grow. The district pinpointed the lighting system throughout its campuses as something that could lead to large cost savings if it were upgraded. In addition to reducing power consumption and lowering maintenance costs, CISD also aimed to improve lighting for students and faculty.
CISD also wanted to maintain its reputation as a progressive school district when it comes to energy savings. The district is well-known for its energy reduction strategies, having been recognized four years in a row for its participation in the Entergy Texas Inc. SCORE program, which provides energy-performance benchmarking, technical assistance and cash incentives to help schools save energy and money.
Possible solutions
CISD and its partners in the project, DBR Engineering Consultants and Brookstone Construction, evaluated a number of possible solutions to gauge potential effectiveness and return on investment. Manufacturers were given the opportunity to set up one sample classroom with their proposed lighting solutions. These sample classrooms contained nine luminaires each.
Once CISD had the opportunity to review the sample classrooms, DBR Engineering Consultants created the bid specification based on their feedback and CISD engineering standards. They released an invitation to bid on the project and received different proposals from lighting manufacturers in the United States.
CISD, DBR and Brookstone evaluated each proposal individually. One of the bidders was disqualified from consideration due to submitting a retrofit kit that didn't meet CISD's specifications, while another bidding company was able to provide luminaires that adhered to specifications, but at a higher price point than XtraLight.
Chosen solution
CISD and its partners chose XtraLight's proposed solution because the XtraLight LED luminaires met or exceeded the project's specifications and, in the opinion of the evaluators, provided the best financial value.
Conroe and its partners also allocated a four-month window to have all lighting installed without disruption to classroom or after school activities. XtraLight was able to guarantee completion within this timeframe and under the specified conditions. In addition to that guarantee, XtraLight also provided 10-year warranties for all products installed, which helped seal the deal with the school district and its partners.
XtraLight proposed the use of two different kinds of luminaires:
● recessed LED for areas such as classrooms and hallways
● low-profile wrap for areas like stairwells, corridors and locker rooms.
In total, the company installed more than 16,000 luminaires in CISD campuses.
In the classrooms, the company used its ACR LED series because they have an impact-resistant, proprietary lens design that minimizes glare, even on computer screens. The ACR also distributes light evenly throughout classrooms and hallways, eliminating shadows and dull areas. They also can be dimmed when full power lighting isn't necessary.
As per specifications, XtraLight went with the 2x4 version of the ACR luminaires, which provide 4,100 lumens at full light output.
In areas such as stairwells, corridors and locker rooms, XtraLight decided to install its LRW series, which is a low-profile, wrap luminaire that can be mounted on a surface or suspended from a ceiling.
The results
The district expects to realize an 83 percent savings — including HVAC savings — in energy costs per year. Prior to the LED upgrade, the nine campuses consumed nearly 6 million kilowatt hours (KWh) per year.
That number is now expected to fall to just below 1 million KWh per year. Below is a breakdown of the projected energy cost savings and environmental impact across the nine campuses based on prior energy consumption:
● Annual energy cost savings: $444,134
● Annual maintenance savings: $565,601
● Rebates: $130,184
● Amount of time required for new LED system to pay for itself: Four years
Environmental
● Carbon dioxide emissions: -7,599,618 pounds
● Sulfur dioxide emissions: -29,826 pounds
● Nitrogen dioxide emissions: -14,642 pounds
● Equivalent acres of forest added:942 acres
● Equivalent number of cars removed from the road: 663.
While talk of cost savings and environmental impact are important and easily quantifiable, less so is the actual benefits CISD will reap from its decision to switch to LED lighting, and that is the benefits to its students. Proper lighting enhances the learning environment by increasing productivity and awareness, giving CISD's students an improved learning environment.
Several studies have shown LED lighting, particularly lighting that can be adjusted, has a positive effect on student alertness and concentration. Because the original specification called for the installation of dimmer switches and occupancy sensors in every classroom, it allowed teachers to control the lighting and adjust to the learning needs of their individual classes.
CISD's reaction
CISD representatives were pleased with the outcome of the project and have vowed to continue using LED technology.
"The team of XtraLight, Brookstone, and DBR worked together seamlessly and executed this project without interruption to district activities," says Easy Foster, CISD's director of planning and construction. "We are more than pleased with the improvement in lighting in our schools and the savings that have been received, and plan to use LED lighting in all of our new construction projects."
Roger Garvey, CISD's energy manager, says the results were everything the school district had expected.
"After three years of research and classroom mock-ups, we elected to move forward with this district-wide LED lighting upgrade and couldn't be happier with the results," Garvey says.
Marshall Schroeder, CISD's director of custodial and maintenance, is looking forward to focusing on other energy-saving projects now that the school district's lighting has been addressed.
"The installation of over 16,000 maintenance free LED light fixtures has allowed my staff to focus their resources on other energy saving projects," Schroeder says.
With the help of XtraLight, CISD has reached all of the goals it had set for itself when upgrading its lighting system to LED luminaires. The school district is set to save hundreds of thousands of dollars, reduce its maintenance obligations when it comes to lighting and, most importantly, provide a better learning environment for its students and a better working environment for faculty and staff.
Continue Reading:

LED Lighting Upgrades Deliver Savings

LED Upgrade Benefits School's Pool

Planning for an LED Upgrade

CASE STUDY: Illuminating History: Center Shines after LED Upgrade

CASE STUDY: Smart Choice: LEDs Deliver Savings, Lighting Quality

CASE STUDY: LED Lessons: School District Taps into Benefits of Upgraded Lighting
---
---
---
Related Topics: