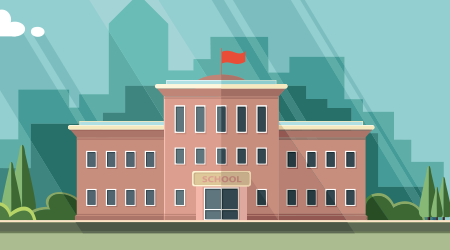 Cooling Crisis: Study Ties AC in Schools to Student Performance
Children have more difficulty learning and performing well in hot school buildings, according to a new working paper, Heat and Learning, from the National Bureau of Economic Research. The study found a link between temperature and academic achievement, specifically that for kids who took a PSAT test, "hotter school days in the year prior to the test reduce learning, with extreme heat being particularly damaging and larger effects for low income and minority students."

The study also found that the lack of air conditioning in schools had a disproportionate effect on children of color.

"We argue that heat effects account for up to 13 percent of the U.S. racial achievement gap, both because black and Hispanic students live in hotter places than white students and because heat damages minority students' achievement of minority students more than white students' achievement," according to the report.

In 11 of the 50 largest U.S. school districts, schools are woefully under-air-conditioned, according to a separate investigation. In Hawaii, just 40 percent of classes have air conditioning. In Milwaukee, only 17 percent of schools are fully equipped with air conditioning, and in Baltimore City Public Schools, 55 percent of schools are.

The HVAC issues at Baltimore City Schools are a case of particular interest after a story earlier this year showed children bundled up in coats, hats, and gloves because the schools' boilers couldn't keep up with frigid temperatures.

This terrific post at Tree Hugger discusses the Heat and Learning study and provides possible solutions, beyond just installing air conditioning. It also presents challenges to these solutions of balancing temperature control and natural ventilation with security concerns. For instance, the lieutenant governor of Texas suggested the school shooting in Santa Fe, Texas, could have been prevented if the school had fewer doors.

This Quick Read was submitted by Greg Zimmerman, executive editor, Building Operating Management. Read his cover story profiling Northwestern University's vice president of facilities management, John D'Angelo.
---