Facility Manager Cost Saving/Best Practice Quick Reads RSS Feed
Air Purifiers Face Scrutiny in Schools' Battle Against COVID-19
May 17, 2021 - Contact FacilitiesNet Editorial Staff »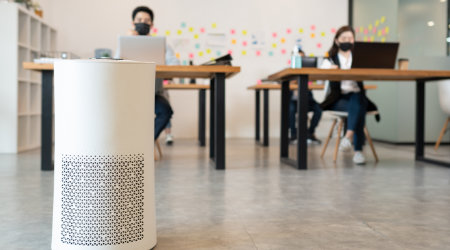 The COVID-19 pandemic has affected nearly every aspect of operations in institutional and commercial facilities, but no area has been more scrutinized than HVAC systems. In their ongoing efforts to improve indoor environments and protect the health of occupants, maintenance and engineering managers have resorted to a range of potential HVAC solutions. In the nation's schools, one technology has received a great deal of attention.
School officials desperate to calm worried parents bought air-purifying devices and related technology with a flood of federal funds, installing them in more than 2,000 schools across 44 states, a Kaiser Health Network (KHN) investigation found. They use the same technology — ionization, plasma and dry hydrogen peroxide — that the Lancet COVID-19 Commission recently deemed "often unproven" and potential sources of pollution themselves.
Schools are buying technology that academic air-quality experts warn can lull them into a false sense of security or even potentially harm kids. And schools often overlook the fact that their trusted contractors stand to earn big money from the deals, KHN found.
Dan Hounsell is Senior Editor, Facility Market.
---
Comments