Museum Nearly Cuts Energy Costs in Half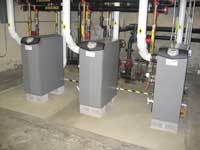 The Northern Indiana Center for History museum comprises two historic houses, various galleries and a children's museum. So the center's indoor environment plays a role in preserving the building and its collections
May 15, 2008 - HVAC
The Northern Indiana Center for History museum comprises two historic houses, various galleries and a children's museum. So the center's indoor environment plays a role in preserving the building and its collections.
A coal-fired, gravity hot-water system had served as the heating system in the 12,000-square-foot building in South Bend, Ind. It had no circulation pump and used larger piping than today's systems. The center added pumps when it converted the system to forced hot water many years ago. Edward J. White Inc., a plumbing, heating and air conditioning contractor, converted the original boilers from oil to gas about 30 years ago.
Tom Rapach, the center's director of facilities and grounds, two years ago discovered one boiler had a tube leak. The contractor recommended replacing the boilers rather than repairing them because future tube failures were imminent, given the equipment's age. Replacing the boilers also would reduce the amount of energy needed to heat the center and lower operating costs. The high heat level and inconsistent room temperature did not meet museum standards for preserving the mansion and the museum's collection.
The contractor believed the lack of outdoor reset created too much heat for the museum in mild weather. The system had three large zone pumps and fluctuating flow rates. Bringing the combustion air and venting up to today's code requirements also would be difficult due to the building's age and boiler location.
When considering the type of boiler that would best meet the facility's needs, the contractor determined a high-efficiency model with a polyvinyl chloride, direct-vent design and outdoor-air reset was the best choice. The team also wanted 500,000 Btu (Mbh) boilers with simple sequencing. The project's calculated design load was 1,500 Mbh, so the contractor specified three of Lochinvar's Knight® KBN500 models to meet demand and minimize upfront costs.
Removing the old boilers was challenging because they sat in individual pits in the mechanical room. The contractor had to extract the boilers from the pits and fill the holes with concrete. Once the contractor completed the removal process, the new boilers' lightweight design, small footprint and easier setup with the Smart System™ helped create a more efficient installation.
Since the installation, Rapach and the other directors have been impressed with the new boilers and the cost savings they have generated on their utility bills. The total cost of heating the center in 2005-2006 was $82,273. The amount spent on energy bills throughout 2006-2007 dropped to $43,985, a 46 percent difference. Based on these numbers, the center expects to realize its payback for the new system in less than two years.
---
Comments