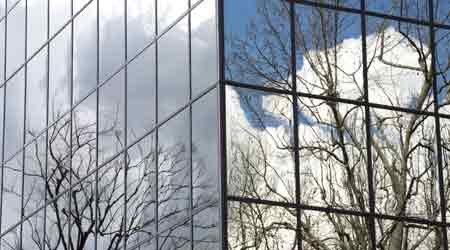 The Right Way To Tackle HVAC Renovation Challenges
Part 3 of a four-part article on best practices for designing HVAC systems.
One turn-of-the-century historical complex was originally designed with natural ventilation from operable windows and an uninsulated building envelope comprised of stone veneer, masonry backing, and plaster. When air conditioning was added over the years, windows were replaced by air intakes and insulation was misapplied in certain areas. Now that the building is being renovated, three challenges — and potential trade-offs — to an integrated design exist:

1. Moving daylight into the central spaces of a multi-hundred-thousand-square-foot floor plate with 70 percent interior space.

2. Designing an air-conditioning system for a facility with an envelope that wasn't meant for air-conditioned interiors.

3. With all of the legacy issues that exist in the facility, designing HVAC system to be as energy efficient as possible.

Addressing those challenges involved tradeoffs. To enable access to daylight and views, the design maximizes daylight penetration but gives up an opportunity for an airside economizer (free wintertime cooling) that would have substantially reduced precious window area. Using a dedicated outdoor air system on the roof provides the necessary ventilation, while relying on a river water cooling system to provide nearly identical free cooling potential.

Exterior wall systems will require new interior layers for thermal insulation, air barrier, and vapor retarder to be compatible with an air-conditioned building.
Continue Reading:

HVAC

Integrated HVAC Design: Materials, Systems, and Programming Must Work in Concert

HVAC Systems: To Centralize or Decentralize?

The Right Way To Tackle HVAC Renovation Challenges

Don't Fail These HVAC Design Tests
---
---
---
Related Topics: