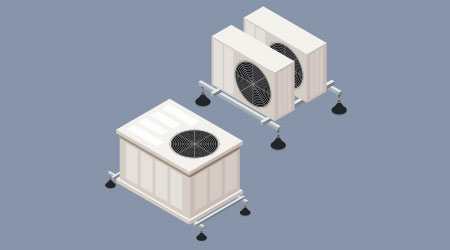 Measure, Test, Commission: Keys to High-Performance HVAC
You must have the data — it's the key to understanding how best to tune and optimize HVAC systems for best efficiency and performance.
Today it's all about the data. Data rule everything. So you would think that the more information you can collect about a building's operations the better. Right? Not so fast. True, there are wonderful systems that help the building engineer, facility manager and owner see what's going on with their systems. But there's a danger of over-designing control systems and providing so much information that it overwhelms the people who are looking at it.
All buildings should have some form of energy information system (EIS) rather than simply a building energy management system (EMS). An EIS doesn't control equipment the way an EMS does. Rather, it gathers, organizes, and often analyzes data to make it easier for the operating staff to take actions that reduce energy waste. EIS are easier to use and less costly to install today than only a few years ago.
Test and balance the system
How do you know what's really going on with the building HVAC system? A testing and balancing contractor can help create that picture and answer important questions:
• Is the air handling unit delivering the right amount of air?
• Is the right amount of air getting through all the grilles, registers, and diffusers into the space — and returning from the space?
• How much leakage is there in the duct system, both supply and return?
The best-designed HVAC systems are not going to function properly if the proper amount of air is not delivered.
Don't stop with design
When designing HVAC systems for long-term optimal performance, don't just look at the initial cost of the system. To begin with, determine if you can reduce first cost, or at least break even with first cost — and reduce operating costs — by creating a better building envelope, using daylighting properly, optimizing water use, reducing the amount of outside air, etc. Factor in the lifelong expense of keeping it running optimally (and having it shut down if it's damaged due to weather or other unforeseen events), but do not treat the maintenance department as an expense. Treat good maintenance as an asset, because that's what it really is.
If you want the same optimal performance year after year after year — along with the energy and cost savings that come with it — you may need to think about increasing your initial budget and your ongoing maintenance budget. The savings will come in continued energy efficiency (read: lower utility bills), less need for emergency (reactive) fixes, and improved air quality.
Thoughtful planning is key for new buildings or renovations. Whatever stage you're in — designing, installing, commissioning, operating, re- or retrocommissioning — there's a common thread: Effective maintenance and proper planning for resiliency may be the most important factors in the long-term success of an HVAC system.
James Newman (jimn@newmanconsultinggroup.us), CEM, LEED AP BD+C, OPMP, BEAP is owner/managing partner of Newman Consulting Group.
.
Continue Reading:

HVAC

Best Practices for Achieving High-Performance HVAC Systems

High-Performance HVAC: Why Maintenance is Critical

Hybrid HVAC Systems Offer Big Efficiency

Measure, Test, Commission: Keys to High-Performance HVAC
---
---
---
Related Topics: