Incorporating Portable Cooling Into Emergency Response Plans
Part 1 of a 3 part article on portable cooling needs
OTHER PARTS OF THIS ARTICLE
Pt. 1: This Page
Pt. 2:
Facility Challenges When Making Temporary Cooling Plans
Pt. 3:
Immediate Access to Portable Cooling Units Essential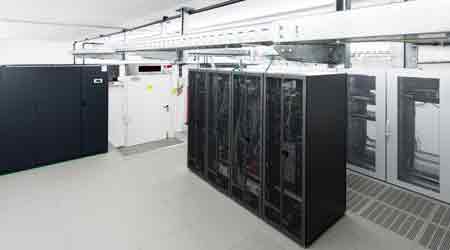 Maintenance and engineering managers often seek portable cooling at their institutional and commercial facilities as a last resort following an emergency that affects operations and threatens the safety of occupants and the facilities themselves.
To minimize the impact of such situations — including floods and fires and resulting power outages — managers need emergency plans in place to help facilities get up and running again as quickly as possible.
"When people are calling for the portables, for whatever reason, people can't fix their HVAC system," says Rob Atkocaitis of Sunbelt Rentals.
"When a disaster does hit, those are usually catastrophic failures, and there's usually not enough equipment they can get fast enough."
A key part of the emergency response process is understanding a facility's cooling needs for both personnel and mission critical equipment, including data centers, computer rooms and patient rooms in healthcare facilities.
Rental companies and manufacturers of portable cooling units can play a key role in helping facilities recover from natural disasters and return them to operating capacity in a timely manner.
"Rental companies can help facilities maintenance people put a plan into place with equipment," says Jim Ptasznik of Trane Rental. "The companies have it all in their systems so when something goes down, they have a number to call, the facilities have the information, and they can react quickly."
Practice makes perfect
Nobody knows when an emergency or power outage will strike. The time between needs for portable cooling at facilities could be months or sometimes years. But facilities that have needed portable cooling equipment in the past usually have a plan in place to respond when future needs occur.
"There are two types of companies — companies that have had a heating or cooling event, where they've lost their cooling, and those companies that haven't," says David Keller of MovinCool/DENSO Products and Services Americas Inc.
"The ones that have had the events are typically the ones who put in the preparedness. We haven't seen a lot of companies proactively engaging in emergency preparedness except for hospitals and schools. For the most part, they experience an event where something happens to their main air conditioning line, and then they're scrambling on the first pass. After that, it's typically much easier (to establish a plan). The facilities know who the distributors are, and how to get cooling rapidly. They figure out all the different steps they need to get stuff in, and they typically buy a couple of units to keep them on site."
A general rule of thumb in establishing a plan for temporary cooling is the larger and more vital the facility, the more complex the preparedness plan.
"It really depends on how critical a facility is," says Ptasznik. "If you look at something like a data center, typically they're going to have redundant systems. They're going to have an emergency plan in place because if they go down, millions of dollars go down with them too. That's a key factor — how much they cost and what is the opportunity cost if they go down."
The age of a facility also helps factor into a temporary cooling plan.
"Newer facilities are built with redundancy in mind," Ptasznik says. "They're built to have temporary equipment roll in. They have wet caps on the outside, and may have extra power drops so if it's a new hospital, they're prepared (for emergencies). If a chiller goes down, (managers) have all that in the back of their minds.
"But if you look at an older facility, they didn't think of that stuff back in the day. When their systems went down, there were a lot more connections, and a lot more setup involved."
Continue Reading:

HVAC

Incorporating Portable Cooling Into Emergency Response Plans

Facility Challenges When Making Temporary Cooling Plans

Immediate Access to Portable Cooling Units Essential
---
---
---
Related Topics:
Comments