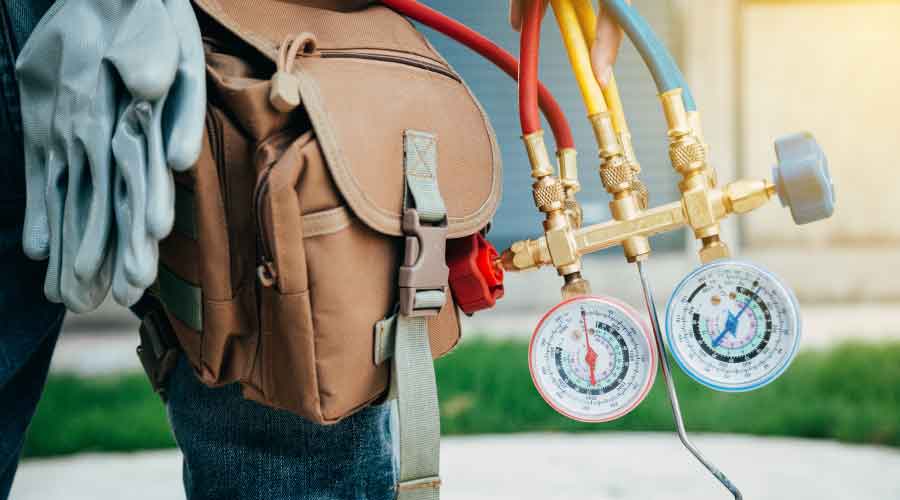 How to Address the HVAC Skilled Labor Shortage
As it becomes more difficult and more expensive to find experienced HVAC technicians, here are some tips for being proactive in developing talent in-house.
As growing numbers of employees return to the office, property managers are faced with a challenging set of circumstances when it comes to maintaining commercial buildings. In a post-pandemic environment, a combination of supply chain disruptions and a worsening labor shortage have made addressing even routine maintenance needs more difficult. For more complex repairs to essential building systems, these new challenges and complexities can rise to a true emergency, incurring significant costs both in real dollars and in terms of tenant goodwill.
Commercial real estate experts and property management professionals grapple with those issues every day. One innovative solution some are embracing is to address pressing operational and maintenance pain points by bringing expert commercial HVAC services in-house. It's a step that comes with intriguing opportunities — and various challenges — that property managers must navigate to ensure they are providing optimized maintenance and service for their tenants in today's environment.
Structural headwinds
For operations professionals, the ongoing blue-collar labor shortage has had a corrosive effect on their ability to address maintenance and service issues in a timely manner. The impact of that tight-and-growing-tighter labor market is evident across the skilled trades, from electrical and plumbing, to general construction. One of the places where that shortage is felt most keenly is in HVAC services. Maintaining a comfortable temperature that is workable for all tenants is a challenge in any large building. That seemingly small issue can make a dramatic difference on comfort and productivity. As commercial property management professionals can attest, it isn't uncommon for heating and cooling companies to put a band aid on persistent problems, only to have to return repeatedly. The resulting cost and disruption become a constant thorn in the side of regular operations, the expense adds up, and it sometimes seems as if relying on outside vendors means coming to terms with the fact that heating and cooling issues will simply linger on unaddressed. For those wondering if they are really getting the best services for themselves and their clients, the answer seems obvious.
Taking the plunge
One possible solution is launching a skilled trades training program in your own company. At a time when skilled talent is hard to find, repair timelines are extended, specialists are aging out of the industry, and commercial property managers need to be nimbler than ever before, taking the bull by the horns and developing that expertise under your control may be the best way to address those issues.
When designed and deployed correctly, this solution can address frustrating market inefficiencies and circumvent many of the delays, frustrations, and subpar work that seems to have become more commonplace. The idea is to cut out the middleman and avoid having to rely on outside contractors.
Early adopters are finding that even one expert HVAC technician can have an impact —and the benefits can be felt almost immediately as persistent issues begin to get resolved. As in-house expertise grows and its capabilities expand, your ability to solve problems in sustainable ways increases. Expanding from a few dedicated experts to an organized service model yields institutional expertise that corresponds with even speedier and higher-quality service.
Results and benefits
Innovators in this space have seen encouraging results, with near universally positive feedback from tenants. When implemented correctly, issues can be addressed promptly and problems fixed in a manner that reduces the need for future service visits. With lower costs and an efficient service model, the potential exists to reduce operating costs, adding value to properties and portfolios, and freeing up resources for capital projects. One exciting extra benefit is the educational component. The right HVAC professionals should not just be performing needed repairs, but also taking time to meet and share tools and insights with on-site engineers who handle daily operational needs. By sharing what they've learned and empowering others to do what they can do to reduce the chances of having issues in the future, this solution doesn't just save money, but extends HVAC expertise across an organization.
Building a pipeline
Longtime investors in (and sponsors of) trade schools — and companies who maintain internship programs and scholarships aimed directly at encouraging the development of young skilled trades professionals — will likely be excited by the opportunity to replicate those big-picture investments in-house by encouraging current maintenance professionals who have expressed interest in expanding their skillsets and professional horizons to take advantage of additional internal and external training resources. In the process, you can supplement proven experts with a strong foundation of newer professionals who can learn, grow, and ultimately assume more responsibility: a talent pipeline with a steady flow of skilled professionals.
Checklists and challenges
Thinking outside the box doesn't come without pain points. Innovators in this space may find that the most persistent obstacles will be the logistics of forming a new enterprise. Sourcing vans, coordinating tool and equipment purchases and storage, and getting back-office operations up to snuff can all present a challenge. You may need an entirely new software platform and addressing other back-of-house needs can be both costly and complex. Be sure to communicate and coordinate with building managers to make sure they have certain items on hand in their stock room, as well as develop a monitoring solution to ensure the flow of tools and equipment is maintained and your team always has what they need on hand.
Built to last
While commercial real estate owner and operators may elect to begin by servicing their own properties exclusively, the potential exists to expand into more client-facing services. For companies that are accustomed to looking for ways to solve problems and add value, this is the kind of solution that simply makes sense. For any commercial real estate company that wants to evolve their offerings and truly provide a full scope of commercial real estate services, creating a proprietary service solution might just be the right call.
Andy Gutman is the president of Southfield, Mich.-based Farbman Group, a leading full-service real estate firm who recently launched its own HVAC company, Apex Mechanical Solutions.
---
---
---
Related Topics: