HVAC: Planning For Temporary Cooling
When upgrades call for temporary cooling, managers need to specify equipment that meets facility needs. Part one of a three part series.
OTHER PARTS OF THIS ARTICLE
Pt. 1: This Page
Pt. 2:
HVAC: Determing Temporary Cooling Loads
Pt. 3:
HVAC: Temporary Cooling, Rent or Buy?
Pt. 4:
SIDEBAR: Temporary Cooling, Streategy For Success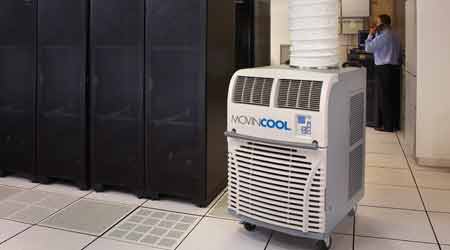 HVAC systems in institutional and commercial facilities have a finite life. Normal wear and tear takes its toll on systems. Systems age. Components fail. While best maintenance practices can slow the process, they cannot entirely stop it. Eventually, systems require replacement.
For maintenance and engineering managers, this means major disruptions to operations. Depending on the scope and size of the system being replaced, areas of the facility might be without air conditioning for periods of time ranging from days to months.
The issue can greatly affect building occupants. Some might be able to shift operations to other areas temporarily, but most will have to continue to operate in place. As a result, managers must find a way to provide temporary cooling.
Fortunately, managers have options when it comes to meeting requirements for temporary cooling. They can purchase or rent relatively low-cost temporary cooling systems ranging from small, self-contained units that can cool a single area, to trailer-mounted units that can cool entire buildings.
Using these products and systems requires that managers develop a temporary cooling plan ahead of time. They must size the units to meet the cooling load, they must understand the power requirements for the temporary unit and make power available, and they need to ensure that purchase or rental contracts are in place well ahead of time. Waiting for a crisis to occur, which requires the use of a portable unit, will result in project delays or disruption of services.
Knowing needs
Not all areas served by an HVAC system have the same cooling requirements. Some functions within facilities can relocate. Some areas, such as corridors or restrooms, might not need temporary cooling during the system upgrade, but others will.
Managers should start the planning process by identifying areas served by the system being upgraded. If building drawings are available and accurate, they provide much of the information managers need, but not all. Over time, systems are modified. Operations being conducted in the impacted spaces change, as do their cooling requirements. So it is important to go beyond the drawings and determine the areas that the system actually serves.
Once managers understand the areas that the temporary cooling system will serve, they will have to determine the amount of cooling capacity the areas need. Managers need to size temporary units so they have adequate capacity to properly cool and dehumidify the area the units served. A unit that is too small will not be able to provide sufficient cooling to regulate temperatures. A unit that is too large will have a difficult time controlling humidity levels.
Continue Reading:

HVAC

HVAC: Planning For Temporary Cooling

HVAC: Determing Temporary Cooling Loads

HVAC: Temporary Cooling, Rent or Buy?

SIDEBAR: Temporary Cooling, Streategy For Success
---
---
---
Related Topics:
Comments