You Might Like
On FacilitiesNet
Four Steps To a Water Management Plan
Knowledge of the entire water system is critical to protecting occupant health.
OTHER PARTS OF THIS ARTICLE
Pt. 1:
Water Management Plan Goes Beyond Legionella
Pt. 2: This Page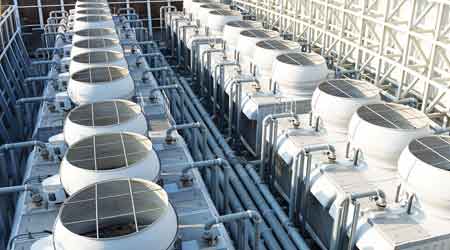 Developing a water management plan instead of a mere Legionella plan is more beneficial to keeping a building's occupants safe. The water management plan requires a larger stakeholder involvement in managing the safety of the facility's water condition. The water management plan must include these steps at a minimum:
1. Water Flow Diagrams: Unlike a Legionella plan, a water management plan takes into consideration all waterborne pathogens and not just legionella. The plan must include a water flow diagram to follow the water as it progresses through the facility. The purpose is for everyone involved to understand the usage and treatment points as water is delivered through the facility.
2. Committee: A committee must be selected that includes a building management specialist who can determine risks, an administration representative who can authorize costs, and someone familiar with the plumbing systems in the building.
3. Inspection Points and Plan: Plans set up by many consulting companies include legionella testing at various intervals. This may not be necessary; a Water Management Plan should include cooling tower sampling, but many other aspects of the plan do not. Inspection points identified in the plan are critical to understanding the safety of water systems — monitoring temperatures and pH levels, flushing protocols, piping changes, and disinfectants such as free chlorine. Clinical staff should also be included in preparing the action steps needed when a Legionella case is discovered.
4. Documenting. The water management plan must demonstrate that the facility is actively involved in the steps required in the plan. It must contain evidence of activity such as meeting minutes, action items, and scheduled checks on water systems.
Costly Sampling Mistakes
Understanding the testing and analysis for determining if Legionella or other harmful bacteria is present in a building's water system is important because improper testing can lead to costly false positives.
For example, a man was diagnosed with Legionella and the County Health Department began an investigation of where the man has been in the last two weeks. One of his stops was swimming at a local health club. The management of the health club's pool was directed to have the water tested. The environmental company responding to the call performed a test that allows for a quick determination of whether legionella is present rather than offering to perform a full culture test of the water to determine a more precise count of legionella present. The quick test confirmed that Legionella was present, and the recommendation included closing the facility, emptying the pool, washing the pool with muriatic acid, filling the pool, emptying the pool, washing again with muriatic acid, and repeating these same steps three times. After receiving this news, the pool management team called another environmental company for a second opinion and they recommended a full culture test. The full culture test showed the pool water was indeed safe and the actual quantity of Legionella bacteria was significantly below established limits.
Similar cases involving government buildings in Illinois have occurred due to false positives that led to newspaper and television news stories that caused undue alarm in building occupants. Full culture tests proved the building's water system was safe, but the news stories already had their negative effect and the good news was of no interest to the same news outlets.
To mitigate the risk of growing and spreading Legionella and other dangerous bacteria within a building's water system, design and implement a water management plan. This multi-tier plan, required by several government agencies especially in healthcare facilities, must be managed internally but an outside consultant can be brought in to assist.
Thom Wellington (thom@environmentalcare.com) is the founder and CEO of Wellington Environmental, a specialized environmental service company based in St. Louis, Mo. He is a member of APIC and ASHE, and has more than 30 years of experience in managing infection risk.
Continue Reading:

Water Management

Water Management Plan Goes Beyond Legionella

Four Steps To a Water Management Plan
---
---
---
Related Topics:
Comments