Facility Manager Cost Saving/Best Practice Quick Reads RSS Feed
Mayo Clinic Uses Bottled Water After Tap Water Turns Black
June 7, 2018 - Contact FacilitiesNet Editorial Staff »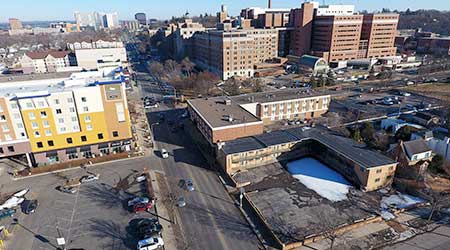 Black-colored tap water on Mayo Clinic's Saint Mary's Campus spurred the hospital to use bottled water throughout the facility, according to an article on the Post Bulletin website.

Visitors and staff reported that water in toilet bowls turned black also.

Patients, visitors and staff were told to refrain from drinking the water or using ice from the ice machines.

While Mayo Clinic was recommending that people not drink the water, officials said that it is OK for washing.

"The water is suitable for hand washing, but hand sanitizers are being placed in bathrooms as a precautionary measure across the hospital," according to a hospital statement. Mayo did not addressed what this might mean for food preparation .

The situation was restricted to Saint Marys campus. The campus has five main buildings, including the 1,265-bed hospital and the Mayo Clinic Psychiatry and Psychology Treatment Center in the Generose Building.

Mayo Clinic eventually traced the source of its discolored water.

"Preliminary analysis has shown that the sediment in the water on the Saint Marys campus came from filtering material from the well at Saint Marys. There have been no reports of illness or symptoms, and the water supply has been tested and deemed safe," according to a statement released by Mayo Clinic's Director of Media Relations Karl Oestreich.

"Initial tests have not found issues with bacterial contamination or heavy metals."

Read the article.

This Quick Read was submitted by Cathryn Jakicic, Healthcare Industries Editor, FacilitiesNet. For more about hospital campuses and other medical facilities, visit https://www.facilitiesnet.com/healthcarefacilities.
---
Comments