« Back to Facilities Management Health Care Facilities Category Home
Kastle: IoT's Advances in Sensor, Video, and Communication Mean That Occupants Are Better Linked to Their Buildings
November 3, 2015 - Health Care Facilities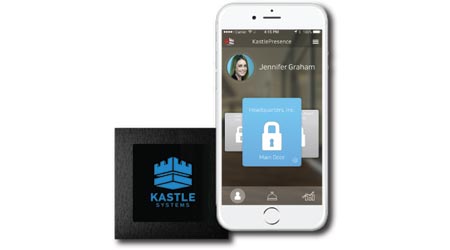 Question: What are the benefits of the building IoT technology for building occupants?
Answer: Mobile & sensor technologies are redefining the daily experience for millions of people. Hailing a taxi cab, waiting on hold to order food, going to a bank branch to deposit checks, and even sending printed photographs to loved ones are all small interactions that have been revolutionized in big ways – meaning that personal life doesn't have to wait til you get home. Office workers can order an
Uber, get seamless delivery at a pre-determined time to their home, deposit a check to their bank, and share pictures with Facebook all on their commute home.
In the office itself during the workday, the Internet of Things continues to evolve the way people work. Advances in sensor, video, and communication mean that occupants are better linked to their
buildings than ever before. Whether quickly reporting emergencies, requesting service, or looking for an open room, the IoT means buildings can react to the needs of occupants in near real time.
Question: What advantages does building IoT technology provide for facility professionals?
Answer: Interoperability improves performance & total cost of ownership of a building, while insight gleaned from newly available data improves efficiency & ability to meet consumers' needs. Systems that seamlessly communicate with each other add new conveniences to buildings, such as single credentials for access throughout a facility in garage, tenant spaces, and common areas. Trends in occupancy & usage of a space help managers proactively service their buildings and get ahead of potential issues before they become problems – improving customer experience, retention, and company reputation.
Question: Are the benefits and advantages of building IoT technology being realized today, and can you provide a specific example?
Answer:
• Hands-Free Mobile Access streamlines the day for busy executives. Mobile credentials and e-registration enhance the workplace experience, beyond the standard issue smart cards or keys. The ultimate convenience with strong security is possible today – and provides the best way to access your workplace. Rolling down car windows to key in and raise garage arms is a relic of the past with this technology.
• Occupancy Intelligence unleashes crowd-sourced information to redefine the daily office experience. Secured areas such as fitness centers and common conference rooms can count occupants and deliver vacancy information cleanly to workers in real time – no more
running around looking for open work space or wondering if the gym is over-crowded.
• Enhanced Connectivity enables building management to meet the ever-increasing demands of responsiveness to tenants' needs. Targeted location-based messaging means property managers are better prepared to serve varying demands, and deliver important news in a clean, focused way.
• Personalized Mobile Security democratizes the physical panic buttons of the past. Geofencedapps enable tenants on-premises to quickly alert guards to priority situations, while administrators have mustering capabilities to know who is in and out of the building during emergencies or drills.
Source: Kastle Systems
For more insights on the products, technology, benefits and challenges of the Building Internet of Things, visit www.FacilitiesNet.com/IoT
posted on 11/3/2015