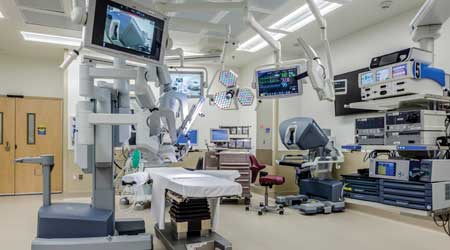 (c) CallisonRTKL
Understanding the Benefits of the Medical Internet of Things
Digital technology is increasingly being used for better facility management, but also to deliver better patient care and improve patient satisfaction.
Medical Internet of Things (MIoT) sensors and devices can allow patients to control temperature and lighting via their own connected wireless devices. These MIoT technologies can help create a hotel-like experience that can "make a hospital stay more comfortable, stress-free and inviting for patients and families," he says.
MIoT tools are not only beneficial to patients and their families, but clinicians as well, points out Muller. "Direct access to patient records, testing, and imaging will give clinicians a clearer picture of patient history, current needs, and discussion points to deliver the best possible care. Having a seamless digital experience provides staff with a fluid workflow that promotes transparency, access, inclusion, and engagement."
Digital technology isn't the only opportunity to improve patient satisfaction. Medical facilities are full of equipment noises, alarms, and code calls. "They need to be audible, but we try to make them less intrusive," says Hankin. The goal is to improve the user experience, as measured in patient satisfaction scores.
"Patient and staff comfort is often impacted by the ability to concentrate and/or rest without interruption," explains Huey. "Locating high traffic areas away from patient room entrances, utilizing products that absorb sound rather than reverberate, and providing sound attenuation devices and materials to isolate obnoxious noises is critical to productive and healing environments."
Patient ventilation also is being rerouted through walls and floors rather than ceilings, notes Amlani. The idea is to allow the conditioned air to rise up, exhausting at the ceiling level. The circulating air is cleaner at the patient level. Any particles are directed up and away, helping to create an environmental barrier for better infection control.
More healthcare facilities are offering places focused on wellness. Thomas noted a community hospital in North Dallas that has a spa-like atmosphere, where people can learn healthy eating and exercise. The area has a farmer's market and a gym, along with neighborhood sidewalks and paths into and out of the facility. "The facility's health and well-being focus helps its patients and engages the neighborhood as well," explains Thomas.
Preparing for changes
As robotic equipment, artificial intelligence, and telemedicine bring together the disparate points of the care continuum, many patient services are moving from an onsite facility to the home or a neighborhood kiosk. These shifts call for changes to the acute care environment, requiring multifunctional streamlined floor plans that are adaptive and versatile, according to Muller.
"Spaces will need to be interchangeable and adaptable over time to eliminate waiting areas, step-down rooms and other current single-function spaces that may be replaced by technology in the future," says Muller. "Operating and procedure rooms must be interchangeable with user-friendly interoperable technology to ensure user comfort and limit learning curves."
It's important to anticipate code and regulation changes that are coming, Juett says — to know, for example, what's happening in infection control. He says the Joint Commission wants immediate use sterilization of essential surgical tools during surgery, so new spaces should incorporate ways to improve these workflow paths.
Increasingly, facility managers must also consider changing weather patterns in the facility design process. "We need to look at climate models and be ready for once in a lifetime conditions," Amlani says. Adding emergency connections outside the building allows boilers or chillers on trucks to be brought to the site, for example. In fact, moving mechanical and electrical systems outside the healthcare building, along with data servers and information storage, can reduce capital costs and provide more usable real estate.
Rita Tatum, a contributing editor for Building Operating Management, has more than 30 years of experience covering facility design and technology.
Continue Reading:

Healthcare Facilities

How Technology is Evolving in Healthcare Facilities

How to Collaborate with IT in Healthcare Facilities

In Healthcare Facilities, New Technology Improves Energy Efficiency and Comfort

Understanding the Benefits of the Medical Internet of Things
---
---
---
Related Topics: