You Might Like
On FacilitiesNet
Retrofit Strategy: Managers get Involved from Day One
Part 2 of a 4-part article on retrofits in healthcare facilities
OTHER PARTS OF THIS ARTICLE
Pt. 1:
Retrofits Deliver Bottom-Line Benefits to Healthcare Facilities
Pt. 2: This Page
Pt. 3:
Healthcare Facilities Retrofits: Making Available Money Work
Pt. 4:
Managers Use Knowledge Gained from Past Retrofit Projects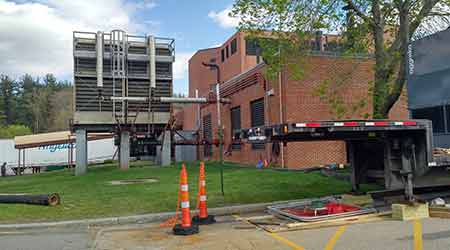 For many managers in healthcare facilities, involvement in retrofits and upgrades of facilities and systems begins as early as possible.

"For our projects within the department, we're in it from the inception of the thought of the project," says Joe Amico, manager of plant operations with Parkland Medical Center in Derry, N.H. His 11-person department is responsible for a 145,000-square-foot main hospital and 150,000 square feet in five offsite locations.

In 2015, the hospital upgraded its building automation system and added a 7,000-square-foot behavioral health wing and now is in the middle of several other upgrades, including the installation of two 250-ton cooling tower systems, the removal and replacement of a 16-ton, 3,700 cfm air handler unit for a cardiac catheterization lab, and a security upgrade that involves more than 30 cameras and more than 30 card readers. Amico's department performs some upgrades and provides support for others, which also involves a hands-on approach.

"For example, in the case of a CT scan addition, we get brought in at the point where they feel like the project is going to get approved," he says. "We sit down with that department and look at the specifications of the CT scan unit — the electrical requirements, the BTUs, output, etc. From there, I calculate the square footage of the area to determine the tonnage of the new air handler that is going to be needed. I look at the equipment usage, the tonnage, the square footage it's going to be servicing.

"It almost becomes part of our project once they tell us they're going to make a major equipment change. We also coordinate the timeline with them, and we bring in a temporary CT unit. Even though they coordinate it, I've got to make sure I've got the power outside for it, so I have to receive the specifications of the unit so I can make sure I have services, as well as the space blocked off outside for the unit."

Determining the extent of the department's involvement in an upgrade or retrofit is often a case-by-case decision.

"In part, it depends on how many projects we have going on at the time," Harubin says. "The second issue is whether I'm at the full staffing level. Is it summer? Is it vacation time? We're not a huge department. We want to make sure that anything we do, we have a 100 percent comfort level as far as the time and the expertise to be able to do it correctly the first time. If we're not comfortable with it, we might bring in a contractor who does have that capability, and we augment their services with our own."

Harubin and his 20-person department are responsible for a 280,000-square-foot, 104-bed rural acute care hospital and four outpatient centers with another 60,000 square feet. Among their recent projects is a $13 million addition of a two-story, 12,000-square-foot building to the emergency department and the renovation of an 18,000-square-foot space, as well as a $3.5 million emergency generator addition. The department size means Harubin must choose projects wisely.

"Especially in a small hospital, you generally don't have three engineers or architects on staff," Harubin says. "You don't have a whole department that's managing the owner as far as all of these types of projects. There's just one person, and that happens to be me, who has the knowledge and the background to get the job done.

"I basically select, hire and manage all of the consultants. I'm the owner's rep and the technical representative on all projects. That includes master planning and acting as the general contractor on smaller projects. I coordinate the entire process whereby the right products will get selected for whatever project it is. We can't always afford what we want, but we try to get the most value we can out of each buck. We have final say, as long as it's within the budget."

Department workloads, always a challenge when it comes to keeping up with routine maintenance, also can affect a staff's role in upgrades.

"We contract out the larger, skilled projects to supplement our existing manpower," says Chris Miller, director of facilities services with the Augusta University Medical Center in Augusta Ga. "Like a lot of organizations, we could use more mechanics. We do the best we can with what we have. When we get a project of significant scale, we'll definitely use outsourced labor.

"Where our guys are key is when we're doing, for example, a water-reduction retrofit or a lighting retrofit. For a lighting retrofit, we have to make sure we have the power turned off, and we have to do that safely. We have to ensure we cut the right circuits off so the work can be done safely."

Among its upgrades and retrofits, the department completed a three-phase LED lighting retrofit of its parking garage in 2014 that resulted in a 50 percent drop in its electric bill, Miller says.


Continue Reading:

Cover Story: Prescription for Savings

Retrofits Deliver Bottom-Line Benefits to Healthcare Facilities

Retrofit Strategy: Managers get Involved from Day One

Healthcare Facilities Retrofits: Making Available Money Work

Managers Use Knowledge Gained from Past Retrofit Projects
---
---
---
Related Topics:
Comments