Green Health Care Buildings Reduce Costs, Support Patient Health
OTHER PARTS OF THIS ARTICLE
Pt. 1: This Page
Pt. 2:
Energy Efficiency, Recycling Areas of Focus for Green Health Care Operations
Pt. 3:
Credible Data, Staff Support Help Green Health Care Operations Succeed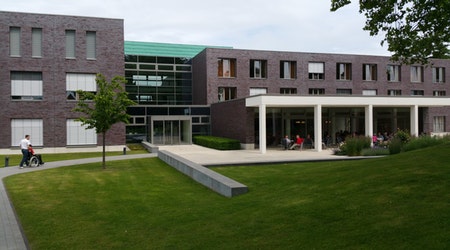 Environmentally responsible practices might seem incongruous in a health care setting. After all, the focus is — as it should be — on patients' health. If saving a life generates more waste or uses more resources than is ideal, that would seem a reasonable trade-off.
However, a growing number of hospitals are concluding that taking a green approach can actually enhance the health of patients.
Cleveland Clinic made that connection in 2007. "We began with the realization that human health and environmental health are connected. If we take the connection seriously, it changes the way we look at our operations," says Christina Vernon, senior director, sustainability and environmental strategy. "We firmly believe that when we make environmentally responsible decisions, it has a positive impact on patients."
"The environment impacts public health. We want to make sure we don't inadvertently create patients," says Albert Manshum III, vice president of facilities and construction with Advocate Health Care, which includes 250 sites of care.
Moreover, saving energy saves money, and lowering the cost of health care benefits everyone, including patients. According to Energy Star, health care organizations spend $8.8 billion (in 2008 dollars) annually to meet patient needs. "That's the beauty of doing energy conservation and green initiatives; there's a terrific return on investment," says Alan Neuner, vice president of facility operations with Geisinger Health System, which encompasses 37 sites in central and northeastern Pennsylvania.
Reducing Energy Consumption
Energy- and water-saving projects can vary significantly in size, scope and design. At Geisinger, one series of smaller projects promises to deliver a relatively large return. Condensate recovery systems capture condensate from air handling units located throughout the campus and recycle it to the heating and cooling systems. The system is reducing water use by about 30 million gallons annually.
The Christ Hospital in Cincinnati also has significantly reduced energy use, says Rick Perkinson, divisional director, facilities management. Among other steps, they converted to more-efficient electronic ballasts and installed occupancy sensors in office and storage areas. "In all, we've saved several million in energy costs," Perkinson says.
New control programs in the chiller plant consider both outdoor and indoor conditions to determine the best approach to temperature control. The air-handling unit consists of 20 to 30 smaller fans, rather than one large fan, to supply the required air. The smaller units can be more precisely controlled and thus operate more efficiently.
The hospital installed drip irrigation systems in the flower beds, as well as drought-tolerant plants. Controllers gauge temperature and humidity, as well as the soil's water levels, to more precisely determine when watering is needed. Drip systems operate with 90 percent efficiency, versus 50 to 70 percent for typical sprinkler systems, according to information from Colorado State University Extension.
Continue Reading:

Close-Up: Green Health Care

Green Health Care Buildings Reduce Costs, Support Patient Health

Energy Efficiency, Recycling Areas of Focus for Green Health Care Operations

Credible Data, Staff Support Help Green Health Care Operations Succeed
---
---
---
Related Topics:
Comments