4 Factors Driving Healthcare Interior Planning
People, process, place, and technology must be considered individually and in complement to ensure healthcare interiors contribute to a healing environment.
In healthcare, interior design has moved beyond just materials to consider elements like wayfinding, biophilia, natural light, and more. Even more important, however, is to think about how those elements combine to create a healing experience for patients, visitors, and staff. That experience is driven most by four factors — people, process, place, and technology — all of which have an impact on interior design.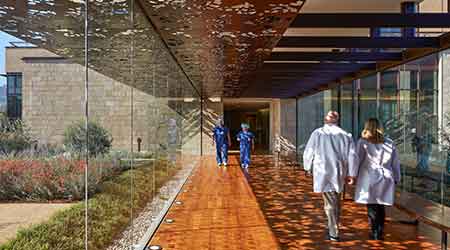 Photo by Bruce Damonte , courtesy NBBJ
1. People
An outstanding experience is one that uniquely responds to the physical, cognitive, and emotional needs of the diverse population of users who experience a space, which, in a healthcare environment, typically means patients, family, and staff. Healthcare environments should address those needs in a way that is supportive, enabling, inspiring, and dignifying.
One way for interior design to improve the experience for patients and their families is to reduce the anxiety of the unknown. First impressions matter. An appropriate space of arrival, like an atrium or lobby, that considers the needs of key populations, can help people feel welcome and navigate clearly. For instance, at the new replacement hospital for the Southeastern Louisiana Veterans Health Care System, research showed that many Louisiana Veteran patients would be traveling great distances to the hospital, so the designers located necessary amenities like bathrooms prominently near the front door.
Arrival spaces can extend beyond the lobby, too. In the Lunder Building at Massachusetts General Hospital, a sixth-floor atrium welcomes patients and visitors to the patient floors with comfortable furniture, abundant daylight, and plantings.
Spaces like this also help patients and their families establish a positive routine, especially for those, like oncology patients, who may visit the hospital frequently. Welcoming, easy-to-find areas like the café, chapel, and garden space can help to shift a person's focus away from treatment.
And don't forget about staff. Studies show that caregiver satisfaction is directly correlated to patient recovery times, so ensuring the physical and mental wellbeing of the care team translates directly into improved medical outcomes. One solution, simple in concept but difficult in execution, is to bring daylight deep into the "backstage" areas of a hospital, such as patient-floor corridors or even the sterile clinical zones where caregivers spend much of their day.
Private staff space is also important, especially for behavioral health providers, social workers, and case managers — really, anyone who might deliver bad news or work with critical patients — who may often need to recenter themselves after a stressful situation. And because staff are more likely to use spaces that are out of view of patients and families, it is critical to provide separate, more private places of respite. These spaces can resemble "mothers' rooms," with comfortable movable furniture, soft materials, a calming color palette, and dimmable lighting. They can also be outdoor, landscaped spaces which rely on nature to provide a sense of calm, as at the new Big Lots Pavilion for behavioral health at Nationwide Children's Hospital.
What's more, the caregiver experience can be improved by connecting staff — and their patients — to the organization's mission of care. Nationwide Children's accomplishes this with brand standards that employ video throughout the hospital depicting staff talking about their experiences, their passions, and their purpose.
2. Process
While process improvements aren't often considered an interior design issue, every process change has a design implication. Every provider seeks an efficient care model that supports business goals and positive patient outcomes, but those processes must always focus on creating an outstanding, personalized experience for patients and their families.
Consider the waiting experience. Typically patients sit in the waiting room, staring at the door where nurses emerge, waiting for their name to be called, getting more and more anxious. Simply reconfiguring the seating so patients aren't staring at the door can make a big difference. While many institutions are working to reduce typical wait times, patients still need places to rest between the stages of their visit, and families will still experience waiting if they're not accompanying the patient to the treatment space.
For even greater impact, consider activity-based waiting. Like activity-based workplaces, this means giving people options: the option to socialize, to work, or to retreat in private. This can be achieved with different types and groupings of furniture, with a range of spaces from quiet to active, and with access to food and drink. Waiting time doesn't have to be wasted time — waiting time can allow people to be productive, educated, entertained, or simply together.
Providing options also transforms a patient's experience of his or her room and creates a sense of normalcy. Like the waiting area, patient rooms can be designed to support a variety of modes, from rest, to socialization, to work, to meals and more. A recent patient room concept, inspired by micro-apartment design, aimed to do just that, with fold-down tables and retractable sleeping platforms so patients and families can work, socialize over a meal, or visit overnight.
Some of these concepts made it into the design of the Fetal Care Center at Nicklaus Children's Hospital, where the millwork in labor and delivery rooms includes an integrated fold-down table, so new a mother can enjoy breakfast the next day with her newborn and her partner. Other recent projects are installing mini-fridges and microwaves so patients can save food for when they're ready to eat, or so their families can bring homemade meals to share in the hospital.
Even when integrated furniture isn't possible for spatial or budgetary reasons, flexibility can also be provided with moveable furniture so visitors can reconfigure the room to look at the patient, the physician, or even just out the window.
3. Place
An outstanding experience is created by leveraging the physical qualities of an environment to project a distinctive identity that embodies and reflects the aspirational qualities of your brand. It is a place that visually communicates your mission, culture, and values while spatially promoting, supporting, and enabling the behaviors and actions associated with those broader goals.
Interior design can also put patients at ease by connecting them to the place where they live and by giving them a sense of belonging, either with architecture that evokes the vernacular traditions of an area, or with design elements that reference local history and culture. Throughout University Medical Center in New Orleans, for instance, custom design touches pay homage to the ornamentation and rich heritage of New Orleans, from environmental graphics with historic motifs and city scenes, to the large courtyards that reference the vernacular architecture of courtyard homes in the French Quarter. These features help patients not only feel at home, but also navigate the large campus.
Another recent example is the expansion of Swedish Medical Center in Edmonds, Wash. Here, design features celebrate Edmonds' logging heritage, with 250-year-old boom logs that greet visitors in the lobby and salvaged wood integrated into the landscapes. The architecture also references the region's glacial past, with striated metal panels that evoke geological strata.
Landscape is another essential element of place. Native plantings take biophilia to the next level, by connecting not only with humans' innate love for nature in general, but for their love of the everyday natural world in which they live. It is also inherently sustainable — at the Palo Alto Medical Foundation San Carlos Center, for example, drought-resistant plants suited for the California climate reduce the need for artificial irrigation.
4. Technology
Finally, the healthcare experience — like so many other things — is being transformed by technology. Technology enables people to become more active participants in their own care, and those who do so are likely to have improved health behaviors, positive care outcomes, and enjoyable care experiences. Simple engagement tools such as personal tablets and self check-in kiosks are already well-established in many settings, but the opportunities for deploying technology throughout the care experience are expanding rapidly.
One important role of technology is to strengthen communication between patients and caregivers. This can be accomplished with telemedicine — remote consultations with care providers — patient tracking systems, patient portals, and, in the not-too-distant future, medical-grade wearable devices. Telehealth systems can also improve communications between caregivers themselves, especially among distributed care teams.
Another important goal is transparency and information sharing, to ease patients' anxiety by keeping them informed about where they are in the process. As artificial intelligence becomes more sophisticated at understanding our daily patterns, it can be used to remind people of their upcoming medical appointments. Virtual concierges can be used to check people in remotely and guide them to their hospital destination. Real-time location systems can the track patients throughout their healthcare journey, much like airplane check-in apps that text travelers updates on their flight status.
Real-time location systems also make it possible to reduce the size of waiting rooms and convert that space to variable, flexible environments that take activity-based waiting to a whole new level, providing freedom and choice for patients and staff. Thanks to technology, waiting doesn't even have to be in the hospital at all — waiting can happen anywhere, and patients can receive the same level of service they've come to expect.
Real-time location systems apply to supplies as well, making it possible to implement just-in-time inventory, which reduces the amount of space needed on patient floors for storage. What can that space become? The possibilities for improving the experience for patients and staff are almost limitless.
Not all technological advancements may affect interior design directly, but they will affect operations, and as operations change, they will free up new opportunities for design.
On Beauty
Neuroscience research has shown that the human brain reacts to beauty — that is, to spaces in which form, proportion, volume, light, materiality, landscape, and other sensory aspects are balanced and working in tandem. Our attention changes in environments that are diverse and dynamic and surprising. Around things it perceives as beautiful, the brain calms, and stress — measured in cortisol levels — decreases. Most people cannot explain why they react the way they do, but they definitely perceive it.
To cite just one example, the landscape at the Neuroscience Center at Riverside Methodist Hospital in Columbus, Ohio, is designed to store stormwater runoff while enhancing the lobby experience and campus grounds. Water flows from the roof into a series of illuminated, architectural concrete weirs, then into a basin where it is retained and filtered by wetland plants — selected for scale, texture, seasonal color, and ease of maintenance — before passing into the campus' drainage system. The resulting landscape is beautiful, functional and — judging by the visitors who crowd the lobby windows during storms to watch it in action — even dramatic.
What's more, beauty should be democratic. When people are in beautiful spaces, they feel better about themselves. Beauty shapes a person's entire experience, and nowhere is this more important than in healthcare. By considering the people you're designing for, the processes and behaviors you want to encourage, the unique qualities of the places where people live and work, and the ways in which technology can advance not only medical care but also the human experience, we can create truly transformative healthcare environments that help people live and work their best.
Edwin Beltran, NCIDQ, FIIDA, Assoc. AIA, is a principal / lead interior designer, NBBJ. He is leading a value-based transformation in healthcare design that meets the industry's increased emphasis on cost while holistically resolving the unique "ethos" of each institution into inspiring, beautiful places carefully tailored to nurture healing and hospitably host life.
Kerianne Graham, AIA, LEED GA, is a senior associate / architect, NBBJ. Her experience encompasses specialty clinics, research labs, primary care, inpatient units and hospital master plans for some of the country's premier healthcare institutions, including Massachusetts General Hospital, NYU Langone Health, Brigham and Women's Hospital and Faulkner Hospital.
---
---
---
Related Topics:
Comments