Facility Manager Cost Saving/Best Practice Quick Reads RSS Feed
Snow Kidding: Major Storm Tests Area's Preparation
December 28, 2017 - Contact FacilitiesNet Editorial Staff »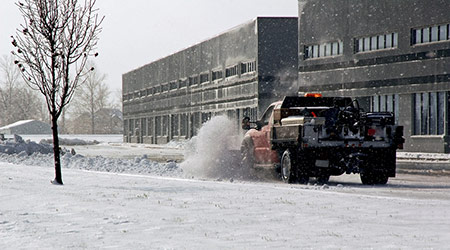 Grounds managers in northern states spend a fair amount of their summer and fall preparing for the inevitable — winter weather. They review staffing and scheduling issues in preparation for overnight plowing needs. The specify plowing equipment and chemicals in anticipation of major weather events. Their staffs inspect and repair equipment related to snow and ice removal. Then all they can do is wait for the storms to hit. The lakefront city of Erie, Pa., offers a case study in the challenges of winter preparation.

A holiday storm has blanketed Erie in more than 5 feet of snow this week, burying streets and driveways in mountains of powder and ice, forcing residents to abandon their incapacitated cars and shattering several snowfall records.

The National Weather Service said the storm had dumped about 60.5 inches of snow on the area since Saturday, according to the National Weather Service said, and more is on the way, according to an article in The New York Times.

Learn about key elements in a plan for snow and ice removal.

Tom Niziol, a winter weather expert at The Weather Channel, says the tally could approach 70 inches before the storm tapers off. The snow is part of what he called a "lake-effect snowstorm." Such storms occur when very cold air comes over the relatively warm waters of the Great Lakes, he says. Heat and moisture then rise into the cold air to produce snow; the direction of the wind determines where the snow falls.

In this case, he said, the narrow snow band parked itself over Erie, Pa. — about 100 miles northeast of Cleveland.

"It's like sticking one end of a giant fire hose into Lake Erie and pointing the other end at Erie, Pa. — and leaving it there for 30 hours," Mr. Niziol says.

Read: Safety and equipment issues in snow and ice management

Although he has lived in Erie his entire life and recalls heavy snowfall when he was a child, Joe Sinnott, the city's mayor, says he had never seen it come down quite like this.

"We're used to snow, don't get me wrong," Mr. Sinnott, 52, says. "But this amount, trying to deal with this, is very atypical."

Mr. Sinnott spoke by phone as he monitored the dispatch of snow plows from a municipal garage. He says crews had been working around the clock to clear main thoroughfares, but it had snowed so much that "every time we finish the main streets we have to circle back around and do them again."

This Quick Read was submitted by Dan Hounsell — dan.hounsell@tradepressmedia.com — editor-in-chief of Facility Maintenance Decisions.
---
Comments