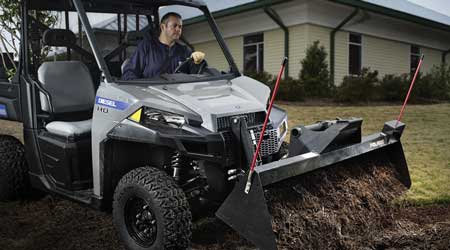 Utility Vehicles: Maximizing Performance, Minimizing Costs
Smart documentation, repair and replacement decisions ensure managers get the most from their equipment investment.
One of the biggest challenges facing grounds departments is meeting evolving transportation needs. For years, managers relied on trucks to support the daily activities of grounds crews, but their relatively high cost and limited flexibility have opened the door for utility vehicles to become the workhorses of modern grounds care operations.
These vehicles cost less, are easier to repair, give workers versatility and access to areas without roads, and can be made road legal in many jurisdictions. With proper care and documentation of repairs, managers, mechanics and operators can ensure utility vehicles deliver long a performance life and allow managers to use a structured capital replacement program.
Setting up shop
Proper maintenance of utility vehicles starts in the department's shop with the use of proper documentation – well before the equipment enters service. The documentation system might be a computerized work order system (CMMS), or it could be as simple as a binder holding spreadsheets with all repair information. Mechanics should record all vehicles' model and serial numbers along with identification numbers, date purchased and warranty information.
They also should prepare checklists for each new utility vehicle. Pre- and post-trip checklists keep vehicle operators accountable for any equipment damage and ensure they complete simple tasks, such as fluid checks. The inspection and maintenance tasks needed for each department vary but should include checking all safety-related features, such as lights, brakes, tire pressure and seat belts.
This checklist should be short and easily completed within a minute or two. This process ensures that utility vehicles are operating properly before they leave the shop, and it provides a paper trail for compliance with safety regulations without inconveniencing the crew or affecting productivity. Other items that operators should check include fluids and damage to the machine. Every site will have their own needs, but the process remains the same.
Using a more detailed checklist, a supervisor or mechanic should conduct a bi-monthly inspection of utility vehicles. This inspection should include checking remaining tire tread, ensuring warning placards are in place, checking the appearance of department identification stickers, and reviewing any specific vehicle data that mechanics feel is proper to check for equipment tracking and operation.
Managers also should set preventive maintenance (PM) schedules when the equipment is new. Using manufacturer's guidelines found in the operator's manual, they should set PM schedules and intervals. Some tasks on the schedule will be one-time items during the break-in period, but others should occur on normal, routine hour intervals. Mechanics can place a sticker on the vehicle near the steering wheel that shows the last and next service interval.
The actual repair process of utility vehicles is no different than that of any other piece of equipment. Mechanics should keep detailed records of all repairs, and any vehicles that are not safe and fully operational should be locked and tagged out until mechanics can complete repairs. Unless mechanics recommend the use of aftermarket parts, OEM parts provide the highest level of confidence of a successful and long-lasting repair. Mechanics also must make sure repairs do not void warranties.
Continue Reading:

Utility Vehicles

Utility Vehicles: Maximizing Performance, Minimizing Costs

Utility Vehicles: To Repair or Replace?

Considerations for Utility Vehicle Replacement
---
---
---
Related Topics: