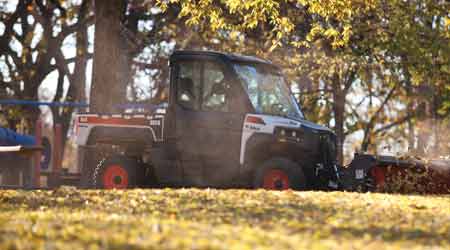 Utility Vehicles Match Needs for Increased Power, Performance
Part 3 of a 3-part article on utility vehicles
The list of tasks work crews use utility vehicles for often is long.
"We use all of the utility vehicles to pick up trash, haul small equipment, haul mulch, soil, plants, and most of the utility vehicles are our main form of transportation for the everyday job functions of the grounds staff," Avery says. "The one thing we've been able to use them for that I didn't expect is the use on some of the sports field activities that we traditionally used tractors for, such as dragging an infield. That wasn't something we really purchased them for."
Because departments and workers find numerous uses for utility vehicles, managers put a high priority on ensuring vehicles they purchase have the power and durability to perform for long periods. Meeting that demand is not easy for some vehicles.
"We have two electric vehicles, and we've used them for about 10 years," Avery says. "We've set them aside as vehicles we use to run a supervisor to a meeting and so forth because we have to charge them. When we send them out with a groundskeeper, they just don't stay charged all day. That's really been the challenge with them. I know that people are saying, 'We're designing them to do that.' But they tend to lose their charge."
Rudy has had similar experiences.
"Electric vehicles just don't seem to have the same power as the gas (powered) vehicles have," he says. "When we're hauling a bunch of equipment or soil, you need a lot of power, and it seems like the electric vehicles just aren't there yet, especially when we're going up hills."
Other alternative power sources also have presented challenges for managers looking for durability and performance.
"Our campus is starting to look into bio-diesel, but we really haven't found consistent blends yet to be comfortable using it in our equipment," Rudy says.
UC-Davis also is keeping an open mind on alternatives.
"We're leasing two trucks that use bio-diesel," Avery says. "I'm not dissatisfied with it, but the biggest problem I have is maintenance. It's a little more work for the mechanics from time to time. I can't tell you the specific reasons why, but the trucks don't run as well with the bio-diesel as they do with regular diesel.
"We're experimenting with it, and we'll continue to pursue it. We're looking at all alternative fuels. We're open to trying, as long as we can be productive."
Continue Reading:

Grounds Management

Universities and Colleges Turning to Utility Vehicles

Utility Vehicles Deliver Reliability that Grounds Managers Covet

Utility Vehicles Match Needs for Increased Power, Performance
---
---
---
Related Topics: