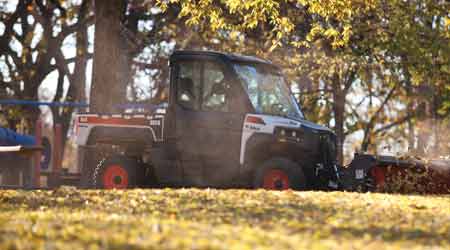 Utility Vehicles Deliver Reliability that Grounds Managers Covet
Part 2 of a 3-part article on utility vehicles
Flexibility and durability have made utility vehicles the workhorses of grounds departments, so naturally, managers in the market for new vehicles often start with those two demands when talking with manufacturers.
"The most important factor is reliability, along with upfront cost to purchase and cost to maintain the utility vehicle such as replacement parts," says Avery, who estimates that a utility vehicle lasts about 10 years and that his department purchases about two utility vehicles per year. "I look at sustainability differently than most people might. I see sustainability as a vehicle sustaining itself over a long period of time.
"The other version (of sustainability) involves emissions and air quality. That does have some impact on us when we're looking at new vehicles, but we're really looking at the biggest bang for our dollar. How long is the vehicle going to last? Are there parts available? Can our mechanic repair it? Is it durable enough to be used every single day for six to eight hours?"
While brand is an important consideration for Avery in the specification process, that loyalty only goes so far.
"We're brand loyal at this point, but we're loyal only because of durability and the availability of parts within hours so we can repair it and get it back out on the site and working," he says. "We don't want to wait a day or two days for parts."
For Rudy, versatility and quality top the list of specification priorities, with cost falling behind those factors.
"We want more than just something we can drive," he says. "We need something that we can use for a bunch of different jobs. We beat them up pretty good, especially during the winter time, so we need something that's going to hold together. We need a strong piece of equipment."
The latest generation of utility vehicles offers a host of features, functions and attachments designed to meet the varying demands of departments and users. The sheer number of options forces managers to prioritize the elements of vehicles that matter most to their crews.
"The electric bed dumping feature is very big for us because we're constantly hauling stuff," Rudy says. "Trying to lift a bed that has a load of soil in it is not ideal when you're doing it as much as we are. We really like that feature, and you really can't get that with a golf cart."
For Avery's department, bed space and turf-friendly tires are high priorities.
"Because we're using it as a work vehicle, we need to be able to load as much as we can in the bed space," he says. "And because we're working in an urban campus environment, we don't always use the roads. We cut across turf, so I want to minimize the damage in terms of rutting turf and cutting across landscaped areas."
Continue Reading:

Grounds Management

Universities and Colleges Turning to Utility Vehicles

Utility Vehicles Deliver Reliability that Grounds Managers Covet

Utility Vehicles Match Needs for Increased Power, Performance
---
---
---
Related Topics: