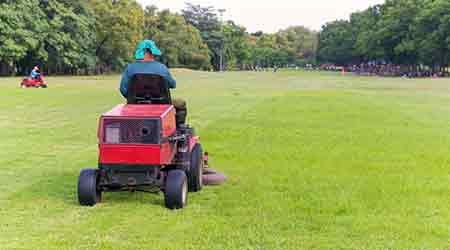 Savvy Specification for Grounds Equipment
Part 1 of a 4 part article on the specification process for grounds equipment
Purchasing grounds care equipment — especially big-ticket products such as mowers and utility vehicles — can be a challenging process for grounds managers. New-generation products offer a host of new and updated features and functions, and the final decision must be a wise investment of valuable department budget funds.
To ensure success, managers should involve the people who will use the products the most — equipment operators and mechanics — in order to gather critically important product input and make a financially smart decision.
Knowing needs
To reduce the risk of overspending on unnecessary equipment, managers first should complete a full property audit to determine the pieces of equipment — mowers, trimmers, utility vehicles, etc. — their crews need to maintain the landscape and support the fleet.
By understanding variables such as the property's topography, length, and width, managers will better understand the amount of ground their equipment will need to cover. The property audit also will help the equipment dealer suggest the most appropriate equipment for your property. If a manager doesn't feel confident in carrying out the audit independently, most equipment dealers will send a representative out to complete the job.
After completing a property audit, managers next should work with their equipment operators and managers to establish a budget. As the primary users of the equipment, these workers have the most accurate and valuable insight about the pieces of equipment they need to carry out the job. The amount of money a manager invests in buying new equipment can have a significant impact on longer-term department efficiency, and if a manager can provide adequate post-purchase support for equipment maintenance, mechanics and operators will be able to complete more jobs in less time.
Utilization is another significant factor that can help managers identify their equipment needs. By talking with their operators and mechanics, managers can identify how frequently they use each piece of equipment. If a mower, trimmer, or other piece of equipment is not in use for 25-30 hours a week, it is being underutilized. When this happens, the equipment is at a higher risk for developing mechanical problems, which then puts it out of service and leads to expensive repairs.
Once a manager has figured out which pieces of equipment to purchase, it is time to select a brand. Managers who are unsure about which brand is the best for their property should check with their peers as to which pieces of equipment from which manufacturers they use.
From a function perspective, all grounds equipment is made the same regardless of brand, but from a quality perspective, if all the managers in the area are using a specific brand, there must be a reason why.
Continue Reading:

Grounds Management

Savvy Specification for Grounds Equipment

Managers Should Schedule Time to Test Grounds Equipment Before Purchasing

Training, Inspections Important to Long-Term Grounds Equipment Care

Trend Watch: Mower Efficiency Continues to Improve

Products: Grounds Equipment
---
---
---
Related Topics: