You Might Like
On FacilitiesNet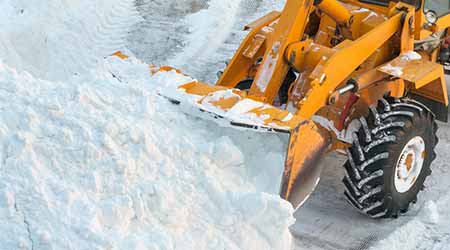 PRODUCTS: Snow and Ice Management
Snow and ice management products
Polaris
The Brutus HDPTO V-Blade measures 60 inches wide and hydraulically adjusts to four positions, including V, scoop and windrowing. One-touch control can change the angle of both wings, and fully integrated controls allow the operator to raise, lower, and tilt the blade without leaving the cab.

HeatTrak
The Snow-Melting Walkway Mat is designed to prevent snow and ice accumulation. The mat includes an electric heating element sandwiched between two protective surfaces of flame retardant reinforced SBR rubber. It plugs into any standard 120 volt (V) or 240 V outlet and generates enough heat to melt snow at a rate of 2 inches per hour. The mat secures to the ground using built-in grommet holes.

Loftness
Seven skid-steer attachments are available in 72-84-inch widths and include a universal coupler, one motor design, and an electric spout rotator. Tractor-mount attachments are available with up to three auger configurations and 60-to 108-inch widths. The units feature a two-stage design for greater efficiency.

SnowEx
The V-Pro 2000 bulk spreader accommodates the bed dimension of most utility vehicles and is designed for use on sidewalks, bike paths and drives. The spreader has a multi-angled hopper that carries 11 cubic feet of salt and sand. The spreader requires no engines, pulleys, sprockets, belts or chains to operate and includes a direct-drive system for the auger. The spreader comes with a fitted tarp and a top screen that keeps large clumps of salt out of the hopper.

Honda Power Equipment
The HSS series features two-stage snowblowers that include: a hydrostatic transmission; joystick electric chute control; DC electric start; increased blower diameters; an LED headlight; increased wheel diameter; an hour meter; an impeller shield; and reversible skid shoes.

Danfoss
The OJ ETO2 is an intelligent all-in-one control melting system. The environmentally friendly controller eliminates the need for chemical treatments. Data from the system's temperature and moisture sensors ensures operation only when they detect snow or ice. The unit can control up to two zones by activating an individual output for each zone.

Grasshopper
Little Bully dozer blades remove snow and sand and dislodge ice from sidewalks and drives. The blades are adjustable to allow operation straight ahead or at 25 degrees left or right. The blades are available in 48- and 60-inch widths, feature control levers with pre-set height adjustments, and include an implement system that allows for easier replacement of attachments.
Continue Reading:

Grounds Management

Snow and Ice Management Practices Evolve

Winter Preparation Presents Staffing Challenges

How University of Michigan Improved Sustainability of Snow and Ice Operations

Preparing the Grounds Services Fleet for Winter Season

PRODUCTS: Snow and Ice Management
---
---
---
Related Topics: