Power at Hand: Specifying Handheld Ground Tools
Managers who are aware of the latest updates in handheld grounds equipment and staff needs will be able to specify the proper equipment.
OTHER PARTS OF THIS ARTICLE
Pt. 1: This Page
Pt. 2:
Handheld Tools That Meet the Needs of Grounds Staff
Pt. 3:
Proper Grounds Tools Can Lead to Greater Productivity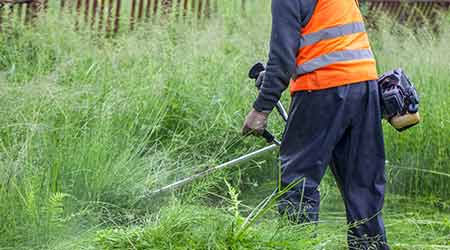 Mowers and utility vehicles get much of the attention in grounds departments, which is understandable, given the central role these pieces of equipment play in daily activities. Savvy managers also pay attention to a range equipment, including trimmers, edgers, and blowers, which round out the equipment arsenal and ensure workers have access to the needed tools for any job that arises.
By staying abreast of recent changes in handheld equipment and understanding staff equipment needs based on current workloads and landscape features, managers will be able to specify handheld grounds equipment that meets staff needs.


Checking on changes
Powered handheld ground care equipment is fueled by cordless or corded electricity or a gasoline engine.
Cordless tools are lighter than corded models, and they require no fuel replacement or power outlets. Battery life between charges limits the tools' hours of use, though a spare battery available for quick swap-out extends the use time. Lithium-ion (Li-ion) batteries feature reduced power-to-weight ratio and hold a charge longer.
Corded lightweight equipment is ergonomically friendly, but one disadvantage is the limited coverage area and need for power outlets within 100-150 feet. Facilities can install receptacles near areas where underground conduit already exists for accent lighting.
Gasoline-powered tools are the heaviest. To overcome this weight disadvantage, manufacturers offer ergonomically friendly backpack designs for gasoline equipment.
Trimmers. Handheld string trimmers can take care of grass, ornamental plants, weeds, and brush. Heavy-duty, walk-behind combined string trimmers and mowers go where wider mowers cannot maneuver. Blade trimmers for hedges, shrubs, and trees offer a range of improved features: lighterweight metals and plastics, including a gasoline version with electronic start weighing 15 pounds; lockout to prevent accidental starts; rapid cutting speeds of 2,400 rpm and up to 1-inch cuts; a two-position handle for vertical and horizontal trimming; and reduced fatigue shock-mounted handle.
Pole saws for pruning trees and trimming branches eliminate the need to set up and move ladders, and they offer the added safety advantage of no climbing. The saws offer overhead reach of up to 18 feet, with 8- and 12-inch blades for cutting larger limbs of more than a 6-inch diameter. Models with 20-volt lithium-ion batteries can cut 100 branches of 1 1/2-inch pine.
Li-ion trimmers now offer more power with up to 56-volt batteries. One 40-volt string trimmer features: a state-of-charge indicator showing remaining battery life; automatic string feed with no bumping required; a power dial to choose between maximum power and maximum run time; and a spool with 30 feet of 0.065-inch string. Also, it converts from trimmer to edger in seconds by rotating the head.
Edgers. From corded to cordless Li-ion battery-operated to gasoline-powered, handheld edgers typically range from 12-pound corded models with a 7-inch blade, an adjustable cut depth up to 1.5 inches, and 100-foot cord up to wheeled 140 cc gasoline-powered walk-behind models with a 9-inch blade and six cut depth settings of up to 2 1/2 inch inches. Many models now offer angle adjustment. They give flower beds a clean, finished look by allowing the operator to cut vertically along the grass line, then cutting at an angle to create a v-shaped bed edge with one tool.
Blowers. For smaller grounds areas, lightweight 4 amp-hours (Ah), 18-volt Li-ion-powred cordless backpack models can produce 100 mph blade speed at 280 cfm. For covering larger areas, managers can specify heavy-duty gasoline powered models with a 60 cc, two-stroke engine, 230 mph at 650 cfm air volume.
The variable-speed throttle is in front of the operator on the blower tube for easier access. An opaque, lightweight plastic gas tank improves ergonomics and provides more efficient fuel tracking. The ergonomic design includes padded backrest and shoulder straps that shift the unit's weight from the operator's arms to the back, shoulders, trunk, and legs.
Continue Reading:

Grounds Management

Power at Hand: Specifying Handheld Ground Tools

Handheld Tools That Meet the Needs of Grounds Staff

Proper Grounds Tools Can Lead to Greater Productivity
---
---
---
Related Topics:
Comments