Mowers That Meet User Demands
Advances in features, functions and performance help managers match equipment options to turf needs
OTHER PARTS OF THIS ARTICLE
Pt. 1: This Page
Pt. 2:
Mowers: Understanding Options
Pt. 3:
Mowers and Total Cost of Ownership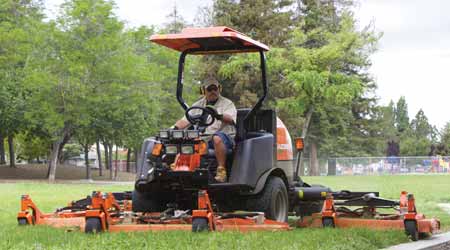 Grounds managers operate in a constant state of change. Successfully managing the grounds of commercial and institutional facilities requires foresight and flexibility, considering the continual changes taking place. Land acquisition, the addition of new buildings or hardscapes, the installation of fresh flower beds or ornamental shrubs and trees — or removal of any of the aforementioned — even the implementation of more stringent sustainability initiatives, are common examples of the wild cards managers encounter daily.
Amid the change, one thing remains constant: Managers and crews have to keep turf healthy and looking its best, regardless of anything else happening on the property. One essential step for managers looking to maximize turf health and appearance is make savvy mower selection choices that take into account the future needs of the department and the organization.
A new age for mowers
After decades of remaining much the same, mowers have entered a new age. Manufacturers have listened to customer demands, and the result is a new generation of mowers that are more powerful, ergonomic, safe and environmentally friendly. All of these advances lead to vastly improved efficiency, fewer injuries, a reduced carbon footprint, and lower operating costs.
No matter which type of commercial grade machine best meets a department's needs, all types of mowers have seen improvements. Walk-behinds and standing and riding mowers are made with longevity in mind and offer advantages not found in non-commercial-grade mowers.
They have larger engines that can more easily handle a variety of jobs, for example. The also can operate attachments that include snow blowers and push blades, feature higher-quality tires and sturdier parts, and offer decks made of heavier gauge steel that allow for higher blade speeds. In addition to better cutting through thick, tall grass and vegetation without clumping, higher blade speed intensifies strength, extends performance life, and increases efficiency.
Expansion considerations
Managers need to consider several factors when looking at expanding a mower fleet. The first step is to make a three- to five-year plan listing routine tasks, anticipated improvements, and potential renovations that could impact operations. This will help determine whether an equipment upgrade is necessary in the immediate future.
Managers also need to commit mowing resources effectively by estimating the number of hours and crew members available to maintain the turf without overextending the landscape maintenance budget.
Among the other key considerations are these:
• How much acreage will crews be mowing?
• What are the terrain demands? If operators use the wrong mower on tender turf or soft ground, the result is unnecessary damage.
• Are there steep slopes? If so, it will have a great impact on the type of mower managers select, especially from a safety standpoint.
• Do operators need to mow around trees and other obstacles? Are there wide open spaces? Both?
• Can operators use the machine to perform other grounds tasks, such as towing and moving snow?
• Will operators need to go through narrow entryways?
• How much storage space is available?
• Will operators need to transport the mower to other properties or to the dealership for service?
Knowing this information up front will help managers choose the most appropriate model to meet future grounds needs.
Continue Reading:

Grounds Management

Mowers That Meet User Demands

Mowers: Understanding Options

Mowers and Total Cost of Ownership
---
---
---
Related Topics:
Comments