You Might Like
On FacilitiesNet
Mower Specification: The Deal Decision
Part three of a three-part article on mower specification
OTHER PARTS OF THIS ARTICLE
Pt. 1:
Mower Specification for Grounds Success
Pt. 2:
Mower Specification: Focus on Features
Pt. 3: This Page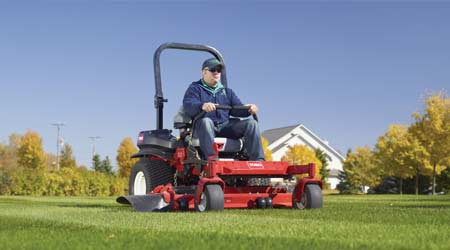 The dealer decision
While managers tend to focus largely on equipment issues during the specification process, they are likely to make smarter equipment decisions if they pay an equal amount of attention to several factors related to the equipment dealer. A dealer will be a manager's greatest source of product information and service.
Before making the final decision on purchasing a new mower, managers should schedule time for equipment operators and mechanics test the equipment. In fact, most dealers will allow customers to test equipment on the property on which crews would use it.
This tactic gives operators and mechanics the opportunity to analyze the equipment and ask any questions they might have about operation, inspection and maintenance. During the test, dealers also have the opportunity to share safety guidelines with the workers, as they are liable for the well-being of its users.
A dealer typically lets the user test the unit for several hours, but in situations where a department has a large property to maintain,the dealer might even leave several mowers for a few days. If a dealer does not allow crews to test equipment, the manager should find a different dealer.
Managers also should check the brands of equipment a dealer carries. If the product line meets department needs, then continue to pursue a working relationship.
To ensure the mowing equipment is well taken care of before and after the purchase, managers should strongly consider buying from a dealer located close to their facility. If a mechanical problem occurs, a local dealer is likely to service the equipment much more quickly than a national retailer.
Working with local dealers also enables managers to build relationships, which is an important part of the process because local dealers are likely to offer special services and pricing to loyal customers.
For grounds managers trying to decide between a few different local dealers, customer service might be the most important element to look for during the specification process. If a department has problems with a mower, working with a dealer that is responsive and eager to help can have a tremendous impact on the productivity of the department.
If operators or mechanics spend hours traveling to pick up parts or take equipment in for repair, that costs the department money. Another dealer with similar equipment might be much closer. See if the dealer will pick up and deliver equipment that needs repairs.
Managers also can benefit from asking other managers in the area for references for local dealers, since peers can have valuable insight to share about their own experiences.
Mike Fitzpatrick is vice president of U.S. Lawns — www.uslawns.com — which has more than 260 franchises nationwide. Fitzpatrick has more than 30 years of experience in the green industry.
Continue Reading:

Grounds Management

Mower Specification for Grounds Success

Mower Specification: Focus on Features

Mower Specification: The Deal Decision
---
---
---
Related Topics:
Comments