Irrigation Issues for Sustainable Grounds
Key sustainability considerations can enable managers to improve the performance and appearance of landscapes
OTHER PARTS OF THIS ARTICLE
Pt. 1:
Strategies and Tactics for Sustainable Grounds
Pt. 2:
Sustainable Grounds: Spotlight on Mulching and Recycling
Pt. 3: This Page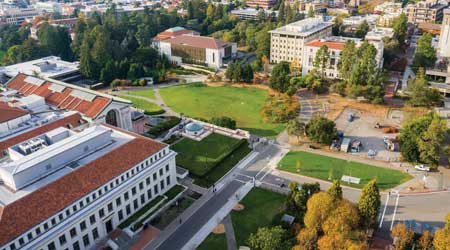 Methods for snow and ice removal around facilities are changing in ways that have made the process more effective and sustainable. In the past, managers and their crews focused on removal and de-icing after surfaces already were covered. Plowing and blowing were the standard methods of removing snow, and crews applied chemicals and abrasives to remove ice.

The most commonly used chemical for de-icing has been sodium chloride, which forms a brine with a freezing point lower than that of water when it comes in contact with ice and snow, thus preventing re-freezing as long as the chemical is present. Although it is effective and low-cost, sodium chloride can harm plants, animals, and even paved surfaces and buildings.

As a result of these issues, many departments have shifted their approaches to snow and ice management from reaction to bond prevention and anti-icing. Bond prevention refers to preventing snow and ice from bonding to a paved surface by treating the surface with chemicals up to 48 hours before a snow or ice storm. The most commonly used chemical for this purpose is magnesium chloride.

Magnesium chloride is effective at lower temperatures than calcium chloride, and it is less harmful to plants, animals, and waterways than calcium chloride. It is still harmful, but pretreatment and careful measuring of application rates can further limit the environmental damage the chemical causes.

New chemical solutions are even more environmentally friendly. One such chemical is potassium formate, which is effective at temperatures below zero, is biodegradable, and will not harm plants, animals, or concrete. It primary drawback is that it is more expensive than currently used chemicals.

Managers also can turn to a number of organic treatment chemicals, such as sugar-beet juice. It has been used on streets and walkways, it is safe around animals and plants, and it does not deteriorate concrete or metal. While it is more expensive than rock salt, it is more environmentally friendly.

Finally, managers can deploy non-chemical alternatives. Hydronic systems constructed from plastic piping and installed under critical areas the concrete to prevent the buildup of ice and snow. The heat comes from a boiler and circulating fluid, typically ethylene glycol.

— James Piper, P.E.
Continue Reading:

Grounds Management

Strategies and Tactics for Sustainable Grounds

Sustainable Grounds: Spotlight on Mulching and Recycling

Irrigation Issues for Sustainable Grounds
---
---
---
Related Topics:
Comments