You Might Like
On FacilitiesNet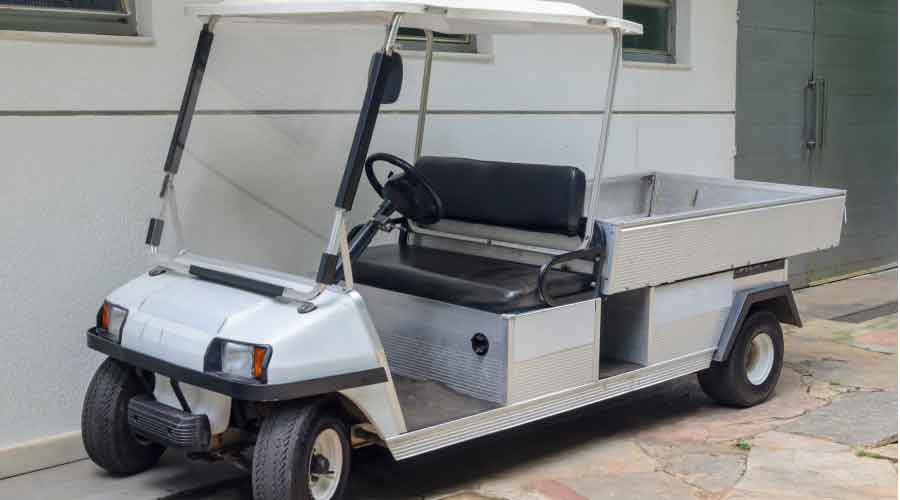 Introducing the Next Generation of Electric Utility Vehicles
Managers must weigh environmental benefits, performance and cost considerations when considering replacements for gasoline-powered vehicles
Grounds managers at institutional and commercial facilities have been researching, specifying and purchasing gasoline-powered utility vehicles for years, so they are well-versed in their key functions, features and applications. But as electric vehicles evolve, managers will need to revisit key considerations related to new-generation vehicles in order to select the models that best meet departmental needs.
Among the factors managers need to pay attention to are range of use, hauling and towing capacity, versatility, maintenance and charging stations.
Utility vehicles are designed to perform a variety of tasks and needs. Operators can use them to travel around large campuses; tow trailers and light implements; transport people and equipment; and reduce manual labor by adding attachments to select models. Electric utility vehicles also offer alternatives to gasoline-powered vehicles. They can be easier to drive and more environmentally friendly.
At the same time, drawbacks can include limited range and power output. Electric models can cost more – as much as $3,000 more — than comparable traditional gasoline models. An often-undervalued feature of electric utility vehicles is that they are quieter than their gasoline-powered counterparts. Employees also benefit from electric vehicles since they do not emit exhaust and greenhouse gases. The electric utility vehicles will play a larger role in decarbonizing the transportation sector in the future.
Electric vehicles of all kinds are growing in popularity. Sales of electric cars, including fully electric and plug-in hybrids, doubled in 2021 to a new record of 6.6 million, with more vehicles now sold each week than in all of 2012, according to the Global Electric Vehicle Outlook.
"Despite strains along global supply chains, sales kept rising strongly into 2022, with two million electric cars sold worldwide in the first quarter, up by three-quarters from the same period a year earlier," according to the Outlook. "The number of electric cars on the world's roads by the end of 2021 was about 16.5 million, triple the amount in 2018."
Increasingly, grounds managers are recognizing the appeal of electric utility vehicles.
Maintenance benefits
Electric utility vehicles have no spark plugs, engine oil or oil filters, so they typically require less maintenance than their gasoline-powered counterparts.
"In general, electric vehicles are far easier to maintain, especially vehicles powered by lithium-ion battery systems," says Ryan McClellan, director of commercial business for Textron Specialized Vehicles.
"Electric vehicles also generate better torque for towing equipment and material and are a much more attractive option for maintaining quiet zones at facilities," McClellan says.
When longer trips are required between charges, additional lithium-ion battery packs can be added.
Grounds managers need to consider the intended application for the vehicle and determine the needed performance specifications, McClellan says. For example:
Does the task require the vehicle to be equipped with a cargo box of a specific size and volume?
Does the application require unique customizations to the vehicle?
Will vehicles be stored in a centralized area, or do operators need to establish remote charging locations?
Do managers need to track and control vehicle assets on the property? This could be done through radio frequency identification (RFID) readers and other access-control methods and by using technology platforms that allow for each vehicle's location to be tracked and its access to specific areas controlled via embedded GPS technology.
Managers also should evaluate the estimated operational costs of a vehicle.
"An ideal utility vehicle has low operational costs and will perform over the term of use with very little disruption for maintenance or replacement parts," McClellan says, adding that every vehicle should be evaluated based on the level of value it creates. "Value creation comes in many forms, but managers should consider the positive impacts of electrification, reliability and productivity in making a purchase decision."
Managers also should consider the benefits of converting gasoline-powered fleets to vehicles powered by lithium-ion electric technology "from a carbon-abatement perspective," McClellan says. "This focus is often applied to the replacement of small pickup trucks and vans."
Operating leases also can create a strategic benefit when compared to using only capital allocation to purchase vehicles.
"In this regard, managers should keep in mind that it is always prudent to lease what depreciates in value and purchase what appreciates in value," McClellan says.
Leasing also allows operators to keep vehicles off their balance sheets and avoid risks related to obsolescence and secondary market devaluation.
Howard Riell is a freelance writer based in Henderson, Nevada.
---
---
---
Related Topics: