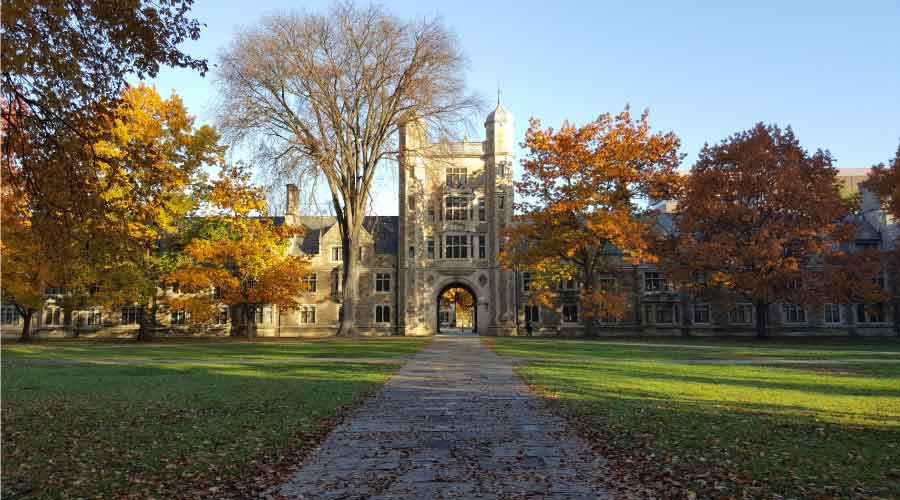 How Sustainable Initiatives are Changing Grounds Management at University of Michigan
Changes driven by sustainability prompt the University of Michigan to rethink equipment, staffing and processes.
Nothing is permanent except change. Nowhere is this time-tested saying more applicable than when it comes to nature, which is in a constant state of flux.
For grounds managers in institutional and commercial facilities, the challenge of change is twofold. They must adapt to natural changes that affect the turf, trees and plant beds that make up their landscapes, and they must deal with advances in technology and processes that affect the way their departments carry out their daily tasks.
Rob Doletzky, landscape and grounds manager with the University of Michigan in Ann Arbor, knows these challenges all too well, as his department has dealt with a host of challenges in recent years that have tested his department's ability to roll with the changes.
Sustainability matters
The University of Michigan Ann Arbor campus covers 3,188 acres and features more than 600 buildings with more than 2,000 classrooms and instructional laboratories. The campus contains nearly 30 miles of roads, 5 million square feet of sidewalks, steps and plazas, and more than 20,000 trees. The campus also features countless gardens and at least 13 million square feet of turf.
Such a vast and complex campus presents an array of challenges for Doletzky and his team, all of which have been magnified by the university's efforts to operate more sustainably.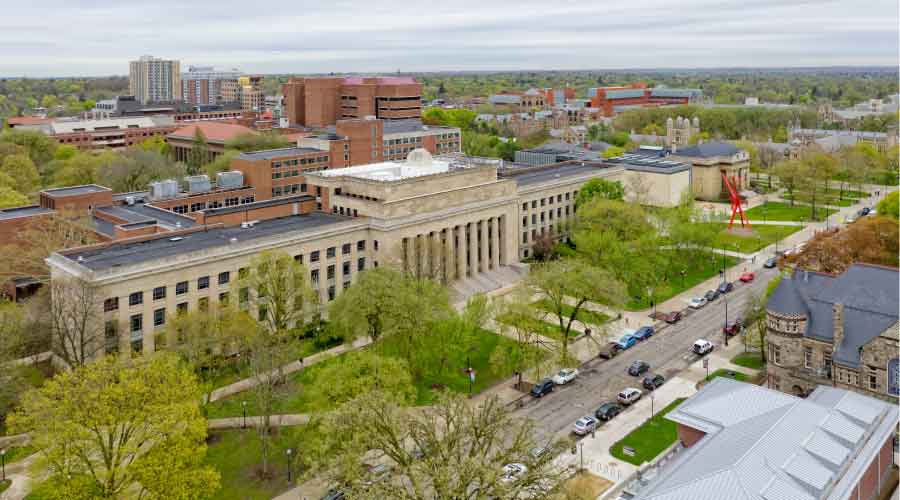 "There's a large push toward green energy and away from carbon-based equipment or energy," Doletzky says. "They're promoting the use of battery-powered equipment and in some cases, even some solar-powered charging stations.
"We're moving towards a battery-powered auto fleet from the standpoint of business vehicles, not necessarily grounds but as a campus as a whole. Buses are included in this grand campus planning effort."
The broad plan is having an impact on the tools and equipment the department is deploying, as well as on the landscapes staff must maintain.
"It's impacting the grounds side with more sustainable landscapes," he says. "So we're reimplementing less irrigation on new projects, more native plantings, less manicured mowed lawns and more plantings."
Because the campus is in a Northern climate, Doletzky must take the move to battery-powered equipment into account when planning the department's snow removal duties.
"We have made the switch from fossil fuel to battery power for any equipment that isn't used for snow removal," he says. "All our hand equipment, including blowers, string trimmers, edgers, push mowers, hedge trimmers, chain saws and about half of our mowing fleet are battery-powered. The other half of the mowing fleet is used for snow removal, which isn't compatible with battery power due to necessary runtime.
"We had been tinkering with battery-powered equipment for a long time, but in many cases, the batteries just didn't last long enough, or they were too heavy ergonomically. It just didn't make sense to just go all in on it. The technology has come a long way."
Equipment considerations
The department's fleet of grounds care equipment, beyond mowers, includes tractors, skid steer loaders and zero-turn mowers, which also can be used for snow removal. The ability to perform several tasks is a central consideration when specifying these larger pieces of equipment.
"When not used for snow removal, we use tractors and various loaders for new landscape installations or renovations, as well as running attachments, such as brush hogs or aerators," Doletzky says. "We also manage all our yard waste in-house, which requires large loaders to move and turn the various piles of compost and wood mulch.
"We use them for all sorts of maintenance throughout the year, anything from unloading plants from a truck or skids of materials from a truck. In the winter, they're used for snow removal and loading salt into trucks. We do use a larger skid loader that has tracks, and we have a couple different implements that we attach to it," including an attachment with rotary blades that crews use to maintain the campus's woodland edges and remove invasive vegetation.
While the change in power source for grounds equipment has affected certain elements of the purchasing process, much of the process continues to rely on proven strategies.
"When making selections, we always include front-line staff in the decision as they best understand the ergonomics and logistics of performing their work," Doletzky says. "We try to standardize as much as possible for training, maintenance and stocking of parts which leads to sole source purchases for many of our bulk purchases. We amortize each piece of equipment based on the life expectancy, maintenance and replacement cost which simplifies coming up with funding for purchases."
An evolving campus
In response to the evolution of the University of Michigan campus, grounds management these days includes incorporating new strategies and tactics for maintaining turf and other landscape elements. One critical change affecting grounds management involves a sustainability strategy that is increasingly popular on large campuses nationwide — converting turf areas to natural spaces.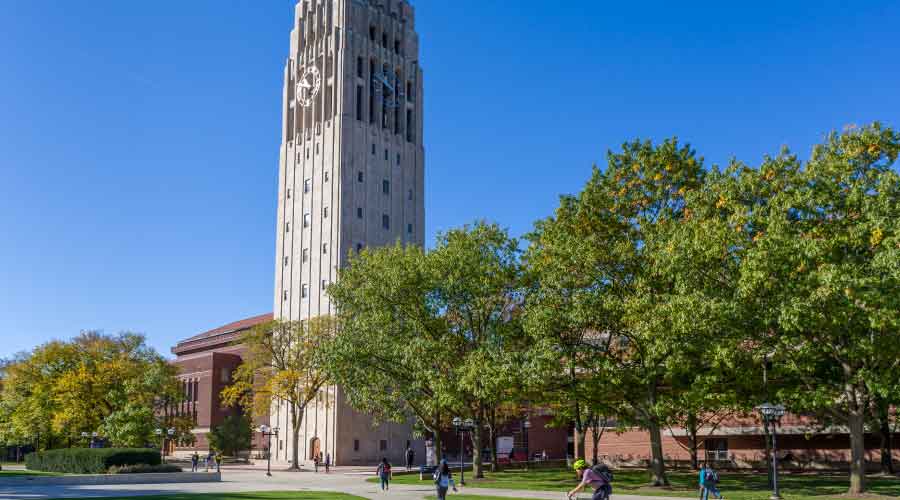 "Over the last 10 years, we have converted over 40 acres of manicured lawn into meadow or prairie," Doletzky says, adding that as a result, "we downsized most of our large batwing-style mowers to smaller, zero-turn-style mowers since we didn't have the need to mow as much open space. We also are practicing alternative maintenance techniques, such as prescribed burns and rough-cut mowing, to manage the woody invasive plants that come along with native landscapes."
The university's move toward greater sustainability also has led to a shift by the department in the use of chemicals on landscapes.
"One of the University of Michigan sustainability goals was to reduce landscape chemical use by 40 percent," Doletzky says. "One of the ways we achieved this goal was by converting many of our lawn areas to organic fertilizer, which requires additional labor and equipment to manage.
"Basically, for organic fertilizer to achieve the same amount of nitrogen requires a larger amount. For instance, if you're only putting down 1 pound of product of a standard chemical fertilizer, you have to put out about 5 pounds of organic fertilizer."
The change has had a ripple effect that goes beyond the use of chemicals to staffing and equipment use.
"It's a more involved process of getting the material to the site and loading the material into the hopper," Doletzky says. "You're putting it down at a heavier rate, and it takes a little longer, so we added a couple of additional spreaders. We have motorized, standard spreaders to make that a smoother process, and obviously a couple more operators are required to do this."
Hardscapes and equipment
Grounds management activities and equipment use also have been affected by the evolution of the campus and its facilities.
"The U-M campus continues to expand in an urban environment," Doletzky says. "New construction and additions to existing buildings continue to shrink the available space around buildings. In many cases, the sidewalk width needs to be adjusted to accommodate underground utilities or bollards need to be installed for security or pedestrian safety. The hardscape is becoming increasingly more complex to maintain in the winter months, requiring additional time and operators and smaller, more nimble equipment to clear the sidewalks of ice and snow."
The resulting campus means that Doletzky must rethink the way he deploys equipment and other resources, including staff.
"We're a pretty urban campus, especially our central campus area, and we're intertwined with the city," he says. "When we have additions to buildings or new construction, it starts to limit the amount of space around a building. In some cases, we might have to make a bridge that goes to an entryway. The bridge might need to have bollards installed because there's a weight restriction on the bridge, so we can't run our larger equipment at bridge. We have more cases where we have to use smaller equipment.
"We've adapted and purchased more or replaced our larger equipment with smaller equipment and more of them. In the long run, we just need additional operators because the campus is broken into additional, smaller routes. They take longer because the equipment is a little bit smaller. The converted zero-turn mowers are handy for the smaller areas, but they can't handle larger snows. So they have to balance larger equipment to get as many of the wide-open areas as we can."
Doletzky acknowledges the challenges the new-generation campus has created and understands new situations call for revamped preparation.
"It's a level of complexity that maybe 20 years ago wasn't there," he says. "We just had a nice wide open, 8-foot walk, and we could run everything down those walks that we needed to. It's not necessarily a negative. It's just reality, and we've adapted. There are a lot of things that we have to navigate around and make sure that we're cautious with the equipment. It's another level of training that we have to employ."
The goal of the training is to ensure staff also are prepared for snow and ice removal on the evolving campus.
"We do an annual snow rodeo training with a real tight course," Doletzky says. "We try to make sure operators, especially our new operators, are used to navigating in and around objects next to the sidewalks or in in the middle of sidewalks. We try to get them as ready as possible."
Dan Hounsell is senior editor of the facilities market. He has more than 25 years of experience writing about facilities maintenance, engineering and management.
---
---
---
Related Topics: