Hardscape Maintenance Pays Dividends for Facilities
Smart decisions on concrete surfaces, lighting and retaining walls can provide benefits for landscapes
OTHER PARTS OF THIS ARTICLE
Pt. 1:
Grounds Management: Easy Answers on Hardscapes
Pt. 2: This Page
Pt. 3:
Hardscapes: Design and Guidelines for Success
Pt. 4:
Handheld Grounds Equipment Puts Power in Technicians' Hands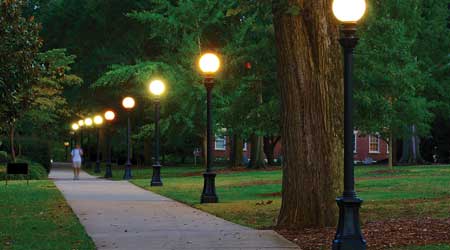 Hardscapes are some of the most expensive landscape components and need to be maintained regularly to provide the longevity and performance that a facility requires. To achieve these goals, managers need to budget both the funds and time required. They need to develop maintenance plans for each type of hardscape, depending on best management practices and manufacturer recommendations.
All hardscape components require inspection. These inspections should include scheduled, formal inspections of sites, and employees also should be trained to look for problems during the performance of their normal tasks. Whether through formal work orders or another system, managers should implement a plan to allow for documentation and tracking of problem areas.
Scheduled, routine inspections should include visually checking for dirt, debris, cracks and uneven areas in concrete and walls, movement of any kind, and proper functionality in the case of lighting. Developing forms and checklists will help ensure proper compliance by grounds and maintenance departments.
Routine maintenance also can give hardscapes the best chance of looking and functioning at their best over their performance life. Workers should remove trash, leaves and debris as soon as possible to prevent staining.
Concrete surfaces, especially permeable surfaces, should be cleared regularly to prevent the buildup of fine material. On permeable surfaces, this fine material will block the pores and reduce the surface's functional lifespan. In non-porous pavement, this buildup will show surfaces to be dirty and will allow for algae growth.
Hardscapes also require regular cleaning. Workers can accomplish this most easily through power washing. Concrete surfaces require power washing to remove dirt and light stains that have accumulated. Workers should power-wash surfaces at least twice annually. Regular inspections will help workers determine whether more frequent cleanings are required. They should never let mud or stains sit on concrete. They also need to check local regulations to determine if cleaners are allowed and whether they need to collect the wash water or use sediment booms around drains.
Concrete is not the only hardscape component that needs to be cleaned. Lighting lenses and fixtures should be inspected and cleaned multiple times annually. Doing so will allow the fixture to look new as long as possible and ensure a clean, clear lens that lets light shine through. A dirty lens reduces lumen output and results in dimly lit surfaces. The use of light meter apps can provide a baseline number and help managers to see the effectiveness of cleaning programs.
Hardscape maintenance programs also need to include provisions for utility work and concrete breakage. This is critical for walkways that are designated as accessible under the Americans with Disabilities Act (ADA). Large cracks and uneven pavement can look unsightly, but more importantly, they can place a property in violation of the ADA and result in fines or civil action. Managers need to designate alternative routes that can be used in the event of breakage and monitor these areas closely.
Continue Reading:

Grounds Management

Grounds Management: Easy Answers on Hardscapes

Hardscape Maintenance Pays Dividends for Facilities

Hardscapes: Design and Guidelines for Success

Handheld Grounds Equipment Puts Power in Technicians' Hands
---
---
---
Related Topics:
Comments