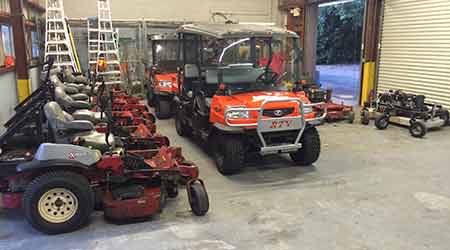 Grounds Crews Regularly use Mowers, Boats in Florida Residential Area
Part 2 of a 3-part article on fleet management
The fleet of equipment also must handle more routine maintenance and grounds duties. For example, the staff mows the community's turf areas weekly from March through November and every other week the rest of the year. The need for effective mowing is reflected in the department's equipment purchasing history, including the addition of three new mowers in the last three years to double the fleet.
"We're keeping the three older ones as backups, since mowing is one of the biggest parts of what we do," Bolick says. "It's a lot of ground (to mow), including the natural park settings, and along the roadways and sidewalks that we maintain."
The beaches along the Gulf of Mexico, the Natural Resources Protected Area of Clam Bay, and 45 bodies of water within Pelican Bay present a different set challenges for the department.
"We have two restaurants on two different beaches, so there's material around each of them that we have to maintain," Bolick says. "Those areas with the mangrove trees (part of the protected area) and the boardwalks going out to the beaches, we maintain them."
Activities within the protected area require special permits for the staff to perform its regular maintenance duties, which typically require the use of the boats.
"We do water sampling, and with some channels from other bays, there are canoe trails that are pretty narrow, so we have to keep those clear," Bolick says. The staff uses boats to trim mangroves, dredge Clam Pass — a river-like body of water adjacent to the beach — clear debris and fallen trees from canoe trails, remove exotic plants, and clear hand-dug channels for proper water distribution.
Continue Reading:

Fleet Management

Diverse Community Challenges Call for Savvy Fleet Management

Grounds Crews Regularly use Mowers, Boats in Florida Residential Area

Utility Vehicles Play Vital Role in Florida Community Grounds Department
---
---
---
Related Topics: