You Might Like
On FacilitiesNet
Green Team: Sustainable Landscapes a Group Effort at the University of California-Davis
Part 1 of a 5 part article on UC-Davis
OTHER PARTS OF THIS ARTICLE
Pt. 1: This Page
Pt. 2:
California Campus Realizes Savings With Sustainable Landscapes
Pt. 3:
Tree-Planting Program Generates Significant Energy Savings at UC-Davis
Pt. 4:
Sustainable Landscape Focus Changes Staff Responsibilities at UC-Davis
Pt. 5:
How 5 Sustainability Programs Generate Savings at UC-Davis - An Online Exclusive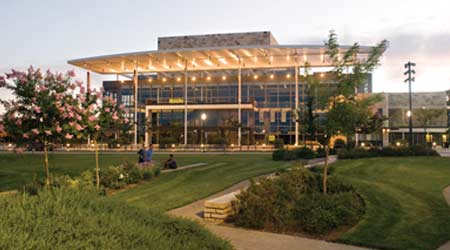 When the University of California-Davis started converting turf areas into sustainable landscapes, the process did more than influence current and prospective students attracted to the campus because of its appearance. It charted a course for the university to become one of the most sustainable campuses in the nation.
Over the last decade, the university has transformed about 600 acres of turf to sustainable landscapes. Planting more than 12,000 trees, as well as 200 acres of shrubbery and other native plants, has helped the university significantly reduce mowing time for grounds crews. It has saved thousands of gallons of water by reducing irrigation needs, and it has turned turf areas that were costly to maintain into drought-tolerant landscapes that students, staff and visitors can enjoy.
Thanks to a team approach that embraces the ideas and suggestions of many campus departments, adding sustainable landscapes has produced tangible savings for the university in the last decade — most notably, a 10-15 percent reduction in mowing costs and a 20-25 percent reduction in water costs.
Building A Team
Cary Avery, the associate director of grounds and landscape maintenance, and his staff have received plenty of help in trying to achieve the university's sustainability goals. The creation of a landscape design team three years ago — a consortium of campus groups that includes grounds and landscape services, landscape architects, arboretum staff, and civil and industrial service crews — offers the department additional expertise.
The university's efforts to convert turf areas into sustainable landscapes is one example of the team's efforts. The program involves the expansion of the arboretum onto the main campus, where the landscape team partners with academic programs to design landscapes that either reflect subjects being studied inside a certain building or reflect the research taking place inside.
"For instance, (if there is a landscape near) the geology department, we have a rock garden there," Avery says. "With the art groups, we're allowing them to assist to design gardens within the art buildings. They're also implementing some of their artwork with what I would call sustainable with reused chairs. They're experimenting with a lot of things."
Continue Reading:

Project Management

Green Team: Sustainable Landscapes a Group Effort at the University of California-Davis

California Campus Realizes Savings With Sustainable Landscapes

Tree-Planting Program Generates Significant Energy Savings at UC-Davis

Sustainable Landscape Focus Changes Staff Responsibilities at UC-Davis

How 5 Sustainability Programs Generate Savings at UC-Davis - An Online Exclusive
---
---
---
Related Topics:
Comments