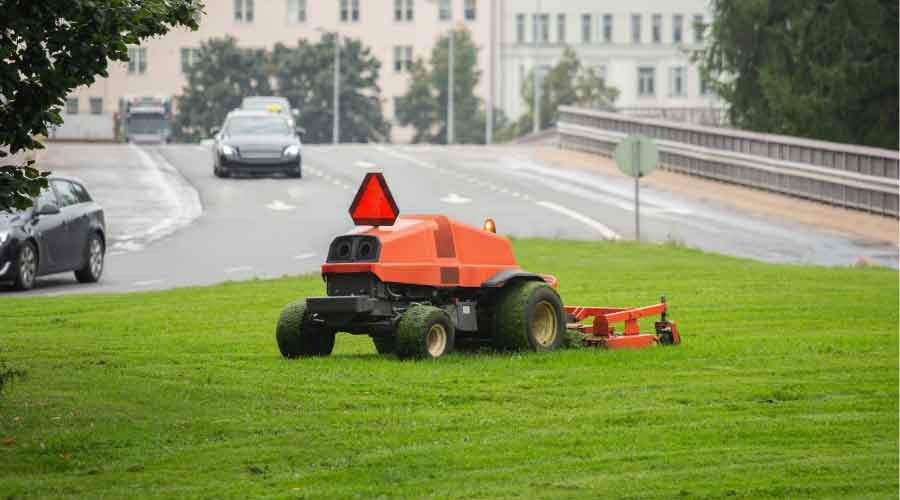 Electric Mowing Equipment Comes of Age
Grounds managers must weigh its potential benefits and challenges for staffs, departments and bottom lines.
Rising fuel costs, together with stricter environmental standards and the Great Resignation, have ratcheted up the pressure on grounds managers as they plan and review mowing programs.
Indeed, as mowing season begins to fade in various parts of the country, managers are reassessing their fleets and are already working on plans for 2023.
Determining new equipment to keep the grounds of institutional and commercial facilities looking pristine while meeting budgets can be daunting.
Mower options — from ride-on, standard ride-on and zero-turn models to lawn tractors, garden tractors, walk-behind, self-propelled, push, hover and even robotic — continue to expand, and the labor shortage has prompted more managers to consider commercial robotic lawn mowers for their fleets.
Though more expensive, electric mowers reduce exhaust emissions and noise, meaning crew members can experience a healthier work environment. Heavy-duty commercial electric mowers with long-lasting batteries can cost nearly $30,000 — more than three times the cost of a comparable gasoline-powered machine.
Technology arrives
Increased adoption of battery-powered products for grounds care "has finally arrived," says Joshua Jans, marketing manager, sports fields and grounds with The Toro Co. "Like most new technologies, battery-powered professional turf-maintenance equipment continues to increase as infrastructure and equipment improves."
Until recently, Jans says, the electric mower equipment "didn't necessarily" match up to the performance or run-time of gas-powered machines or they have been simply cost-prohibitive or impractical.
Electric mowers are more popular and quieter options for campuses, facilities and sports complexes. They feature lithium-ion battery power technology and zero engine emissions.
As technology advances continue, "You can expect to see an increased focus on reducing fuel costs and increasing efficiencies through advancements such as autonomous technology," Jans says.
The general trend among mowers has been toward zero-emission machines to meet evolving regulations that many municipalities have established as battery technology continues to improve.
"Autonomous technology will be the next evolution in grounds keeping, and we're really excited to see our customers anticipating this technology," Jans says.
Lithium-ion battery technology also allows for more flexible working hours, given the reduced noise from the machines, which can operate earlier or later in the day without disruption to nearby building occupants and visitors.
"As many businesses consider more sustainable solutions, products that are more environmentally friendly and offer reduced or zero emissions are becoming more desirable," says Ron Scheffler, senior project manager with Doosan Bobcat, who sees stronger interest in electric mowers and turf renovation among hospitals and schools, where noise and emissions are factors.
In addition to expanding electric mower opportunities, labor shortages have prompted some managers to consider autonomous mowing.
Autonomous technology "can work as a labor extender, opening the door for increased productivity while working within the labor constraints that plague the industry," Jans says.
Howard Riell is a freelance writer in Henderson, Nevada.
Continue Reading:

Grounds Management

Electric Mowing Equipment Comes of Age

Technology is the Future of Mower Design
---
---
---
Related Topics: