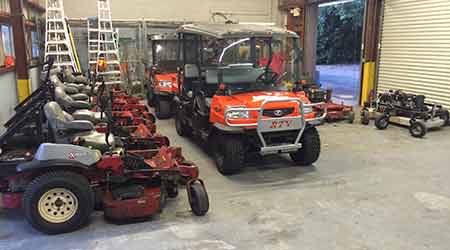 Diverse Community Challenges Call for Savvy Fleet Management
Part 1 of a 3-part article on fleet management
Pelican Bay presents an array of challenges that would test the fleet of grounds, construction and transportation equipment in almost any institutional or commercial organization. The 2,200-acre community located on Florida's Gulf Coast near Naples includes streets, walkways and parks, as well as lakes, Gulf of Mexico beaches, and 500 acres of naturally protected land.
With a population of about 6,400, Pelican Bay is a separate community within the city of Naples and Collier County. The area is a mixed-use planned community development that includes residential, commercial, and public areas. The many different kinds of landscapes require that Pelican Bay deploy a fleet of vehicles capable of handling an array of tasks daily.
"It's rare that all of my vehicles are not being utilized," says Marion Bolick, Pelican Bay's operations manager, who oversees the fleet. "We don't have extra vehicles in our fleet, so when one goes down for repair or maintenance, that's one of our biggest challenges — getting crews deployed throughout the property in an efficient manner."
Focus on the fleet
Bolick's fleet consists of 13 trucks, including pickup trucks, flatbed trucks, a dump truck and a bucket truck equipped with an aerial lift to reach hard-to-access areas such as light poles and trees. The fleet also includes six utility vehicles, six zero-turn mowers, a front-end loader, two boats, a chipper, and pull-behind blowers for street and sidewalk cleanup.
The community's operations staff includes 13 full-time employees, all of whom work for Collier County, Bolick says. Any temporary labor positions are under the Pelican Bay Division jurisdiction. Residents pay an assessment to receive an exclusive staff for public services.
The Pelican Bay staff maintains about 10 miles of streets and walkways, 36 acres of turf areas and 57 acres of landscape along roads and walkways and in two community parks.
Staff also handles the grounds for the commons, which is the headquarters for the homeowners association, and the community center, a multipurpose facility that hosts meetings and other public events.
Of the many challenges Bolick and his staff must contend with, dangerous weather presents significant concerns.
Pelican Bay sits in an area that sees frequent lightning strikes. As a result, one of the staff's regular tasks involves repairing streetlights and poles that have suffered lightning and storm damage.
"We utilize the bucket truck often for light repair," Bolick says.
"We have somewhere around 1,000 light poles to maintain, and with southwest Florida being the lightning capital of the U.S., we recently had lightning strike one of our poles that we had to replace.
"The pole didn't get knocked down, but it knocked the light off and damaged the concrete pole, so it will have to be replaced. It's the second or third time within a year we've needed to replace a pole, so it's more common than I want it to be."
Continue Reading:

Fleet Management

Diverse Community Challenges Call for Savvy Fleet Management

Grounds Crews Regularly use Mowers, Boats in Florida Residential Area

Utility Vehicles Play Vital Role in Florida Community Grounds Department
---
---
---
Related Topics: