California Campus Capitalizes on Versatility of Utility Vehicles
Part 1 of a 3 part article on sustainability, reliability and versatility of utility vehicles
OTHER PARTS OF THIS ARTICLE
Pt. 1: This Page
Pt. 2:
Specifying Utility Vehicles for Sustainability
Pt. 3:
Impact of Staff on Utility Vehicle Decisions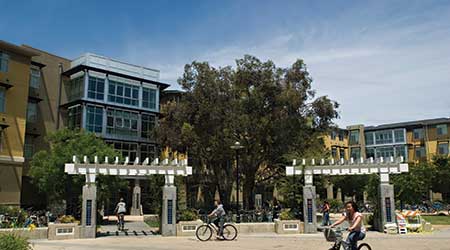 Utility vehicles have become essential tools for grounds departments in many institutional and commercial, in large part because they offer managers a valuable benefit: flexibility. The versatile vehicles enable crews to carry a variety of materials and equipment almost anywhere to perform a range of daily tasks.
Now, as the next generation of utility vehicles arrives, many managers will need to rethink their specification processes in order to incorporate a host of evolving issues in determining which vehicle is most appropriate for a department's needs and an organization's larger goals.
Vehicles on the rise
For the University of California-Davis, specification means paying close attention to issues such as reliability and ease of maintenance and operation, as well as one issue managers might not have placed as high on the priority list: safe vehicle operation.
The university's campus covers 5,300 acres, with the core campus consisting of 925 acres of maintained landscape with more 12,000 trees, as well as recreational and research space.
The 62 full time employees of its grounds and landscape services department have access to a fleet of 39 utility vehicles. Most are gasoline-powered — two are electric — and they range from 11-20 horsepower, with cargo capacities of up to 500 pounds and towing capacities of up to 900 pounds. "We started with 10 originally, just sort of testing them to see what sort of use they could be for us," says Cary Avery, associate director of grounds and landscape services. "We found that they were extremely useful, much more so than the wheelbarrows the guys used to push around. Now we use them on the sports fields, as well."
As with many managers, Avery relies on the vehicles in large part because of their versatility.
"We use these vehicles for everything from moving tools to picking up trash and hauling plants, soils, and green waste," he says, adding that their use has evolved over the years. "We originally purchased them as a transportation vehicle for groundskeepers to help hauling tools and green waste. They have proven to help in all aspects of our operations. It would be very difficult to complete our workload without the use of these utility vehicles."
Other departments have tapped into the vehicles for key tasks, including moving people around the campus.
"Various departments throughout the campus will contact us when they need to tour somebody, and we will give them a quick safety training session and lend them the cart," he says. "We have a couple of four-seat carts that we use, as well."
The vehicles also have provided at least one unexpected benefit to Avery's operations.
"One pleasant surprise has been the ability to be a little more mobile when we're spraying," Avery says. "That's been helpful to us because we didn't really think we'd be able to utilize the way we are in terms of labor cost savings. We just didn't realize how much we would save in labor when we started using the carts. It definitely has helped us."
While the fleet of vehicles has benefited both the department and the university, they have presented some challenges. Avery points to one ongoing problem related to the operation of vehicles on a crowded campus: safety. With an enrollment of more than 34,000 students, it can seem as if every student owns a bicycle.
"Our campus has a very large bicycle population, and with utility vehicles, it's difficult to maneuver from time to time, even though you'd think the opposite," Avery says. "But when you're surrounded by bicycles, it can be tough."
Vehicle users also have concerns about the capacity of the vehicles in general.
"We have been challenged with the towing capacity," Avery says. "The staff would like to pull larger green waste dumpsters, (but) the vehicles' towing capacity just is not enough."
Continue Reading:

Grounds Management

California Campus Capitalizes on Versatility of Utility Vehicles

Specifying Utility Vehicles for Sustainability

Impact of Staff on Utility Vehicle Decisions
---
---
---
Related Topics:
Comments