Attachments Add to Versatility of Utility Vehicles
Part one of a three-part article on utility vehicle attachments
OTHER PARTS OF THIS ARTICLE
Pt. 1: This Page
Pt. 2:
Popular Attachment Options for Utility Vehicles
Pt. 3:
Questions to Consider When Assessing Utility Vehicle Needs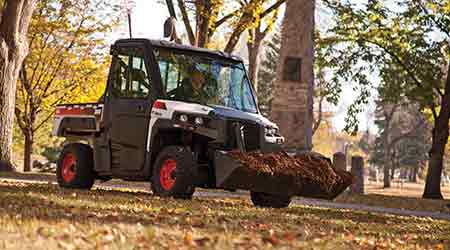 Bobcat
Utility vehicles have become increasingly popular in in-house grounds departments at institutional and commercial facilities. While the vehicles might look like glorified golf carts to some, they offer great versatility to grounds departments.
Workers use them to transport equipment, supplies and people. They enable departments to perform a range of tasks, reduce manual labor, and increase efficiency. Departments use utility vehicles in part because they reduce the amount of time and effort that crews spend carrying around tools and equipment. The operator allows the machine to do the heavy lifting, and supervisors don't have to worry about the equipment being too heavy to carry, thus reducing the chances of mistakes and injuries due to operator fatigue.
Aside from their carrying capacity, the main reason these vehicles can perform such a range of tasks is because of the attachments managers can specify to go with them.
Among the most commonly used attachments are angle or rotary brooms, buckets, mowers, pallet forks, snow blades, snow blowers, sprayers and spreaders. Many attachments can be used year-round and for more than one purpose, so they increase the return on investment for landscape managers.
Continue Reading:

Grounds Management

Attachments Add to Versatility of Utility Vehicles

Popular Attachment Options for Utility Vehicles

Questions to Consider When Assessing Utility Vehicle Needs
---
---
---
Related Topics:
Comments