You Might Like
On FacilitiesNet
Facility Manager Cost Saving/Best Practice Quick Reads RSS Feed
TD Bank Continues Sustainability Success
October 2, 2018 - Contact FacilitiesNet Editorial Staff »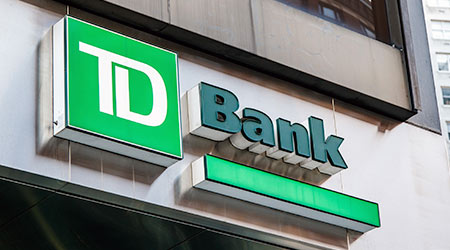 In 2010, TD Bank became the first North American financial institution to achieve carbon neutrality. The bank followed that by building the first net-zero energy bank branch. The LEED Platinum facility in Fort Lauderdale, Fla., opened in 2012 and was certified net-zero energy a year later.

Today, the bank, which occupies almost 25 million square feet of office and retail space across 2,600 locations, continues its carbon-neutrality and net-zero energy initiative as a way to combat climate change. TD Bank continues to focus on energy performance specifications in its design standards, as well as embedding environmental provisions into its leasing process through an environmental management plan, says John De Benedictis, TD Bank's Canadian facilities director.

"We have robust energy consumption tracking mechanisms in place, including identifying the fuel source (gas, steam, electricity) which helps drive GHG scope impact," De Benedictis says. "This data is also used to identify comparative energy performance benchmarking results to find abnormal outliers. Outliers are further investigated to determine the cause for inefficiency compared to previously reported periods. Separate capital energy budgets are put in place to address opportunities outside of other capital programs and several significant rollout projects are currently under way, including converting lighting to LED technology across our retail and corporate footprint."

Asked how TD Bank plans to continue its focus on net-zero energy facilities, De Benedictis says the organization will add to its portfolio of renewable energy, which now includes onsite solar production at 149 locations in the U.S. and Canada. The continued purchase of carbon offsets and a stronger focus on net-zero energy design and operations is also part of the plan, says De Benedictis.

The bank will also "maximize how each facility operates" by installing remote smart building controls in more than 200 retail locations. Finally, the bank plans to continue to promote in-house expertise on efficiency and carbon reduction. "While it's important for TD to make technical and design improvements to our footprint – including having over 230 LEED certified locations which represents 20 percent of our square foot portfolio – it is equally important for our own real estate employees to stay close to the industry for best practices, and we have close to 40 LEED accredited professionals on our staff," says De Benedictis.

TD Bank has been awarded for its efforts with two FMXcellence in 2013 and 2016. It also was honored as a Green Lease Leader from the U.S. Department of Energy's Better Building Alliance and the Institute for Market Transformation in 2017 and 2018.
This Quick Read was submitted by Greg Zimmerman, executive editor, Building Operating Management. Read his cover story on how buildings are tackling climate change.
---
Comments