You Might Like
On FacilitiesNet
Facility Manager Cost Saving/Best Practice Quick Reads RSS Feed
Green Building Industry Shifts Focus to Humans Within Its Walls
November 3, 2016 - Contact FacilitiesNet Editorial Staff »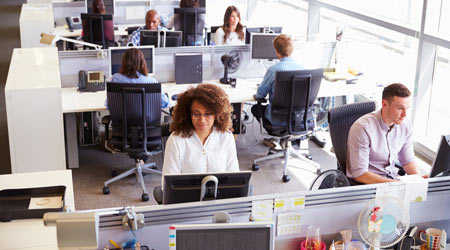 Thanks to interdisciplinary efforts to preserve natural resources and combat climate change, the green building industry has made significant strides in improving the way buildings are designed, built and perform. Enhanced energy efficiency, reduced resource consumption and the use of more sustainable materials is helping minimize the effects of our built environment on our natural environment.

Yet within the buildings themselves, more work can and should be done to establish and maintain a space that supports and sustains a healthy, productive building population. The green building industry is further expanding its expertise beyond bricks and mortar to focus on how buildings can impact the health and habits of human occupants — both positively and negatively. Building owners and tenants alike stand to gain from this renewed focus.

What's in it for business? Gallup estimates that actively disengaged employees add up to an estimated $450 – 550 billion in lost revenues each year. Investing in the health, happiness and wellness of employees yields additional measurable results in the form of reduced health care costs and increased productivity and efficiency.

Measuring progress and results is possible with the WELL Building Standard. This evidence-based system covers measuring, certifying and monitoring the performance of building features that impact health and well-being. WELL is designed to work in concert with the LEED Green Building Rating System, the Living Building Challenge, and other leading green building standards, and is third-party certified through the Green Building Certification, Inc. — the same body that certifies LEED projects.

Grounded in the belief that human health and wellness should be at the center of design, WELL advances a core set of criteria across the whole building:

Air: Optimize and achieve indoor air quality.

Water: Optimize water quality while promoting accessibility.

Nourishment: Encourage healthy eating habits by providing healthier food choices, behavioral cues, and knowledge about nutrient quality.

Light: Minimize disruption to the body's circadian rhythm using window performance and design, light output and lighting controls, and task-appropriate illumination levels.

Fitness: Utilize building design technologies and knowledge-based strategies to encourage physical activity.

Comfort: Create an indoor environment that is distraction-free, productive, and soothing.

Mind: Promote health and wellness awareness by providing regular feedback and information about the environment through design elements and state-of-the-art technology.

Indoor Air Quality
Awareness of the far-reaching impact of indoor air quality within the built environment is growing. From the first onset of "sick building syndrome" reported 30 years ago, to last year's Harvard School of Public Health study highlighting improved cognitive performance among employees working in green offices, there is a clear health correlation between buildings and occupants.

According to the World Green Business Council's The Business Case of Green Building, optimizing building air quality alone could result in an 11 percent improvement to productivity. The ripple effect of indoor air quality extends beyond productivity, to health, and overall well-being and happiness — all factors in how we function in our professional lives. The WELL Building Standard recognizes a building's connection to its environment, and its occupants by fostering a positive relationship between the two through design and healthy behavioral patterns.

Some manufacturers have long been concerned with the impact of their products on the health of the built environment and have sought third-party verification to quantify their efforts. For example, windows and doors have a longstanding role in connecting building occupants with natural light and ventilation, as well facilitating views to the outdoors. Andersen was one of the first major window and door manufacturers to certify its products to Scientific Certification Systems (SCS) Indoor Advantage Gold certification, a standard for low-emitting products that meets California Specification 01350, which is one of the most stringent standards for indoor air quality in North America.

The seven concepts WELL promotes in meaningfully addressing human health – in conjunction with core green building concepts – will result in positive outcomes for people, the planet, and for business. The continued refinement of building design over generations has put us at an exciting crossroads to chart this new direction to a more sustainable future.

This Quick Read was contributed by Eliza Clark, director of Sustainability and Environmental at Andersen Corporation, and submitted by Naomi Millán, senior editor of Building Operating Management magazine.

To learn more about the WELL Building Standard, watch Nathan Stodola, vice president of product development with the International WELL Building Institute, explain how the standard can be implemented by facility managers, click here.
---
Comments