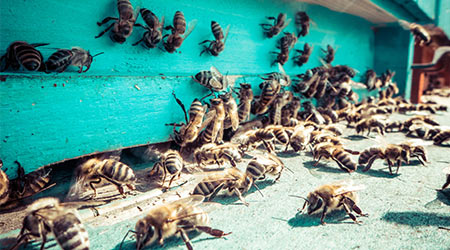 Bee-ing Green: Company Promotes Sustainability with Bees
The rise of sustainability has reshaped institutional and commercial facilities, their product choices and their operations in the last decade or so. Facility managers who once might have given little thought to the impact their buildings and their decisions had on the environment have become increasingly aware that the impact is immense and that their actions matter. Increasingly, they also are taking advantage of opportunities for their buildings and grounds to help the environment, even if facilities were not the cause of a problem. Consider the nationwide decline of the bee population in recent years.

Read: Why FMs make the best sustainability executives

Leigh-Kathryn Bonner is on a mission: convince companies with massive headquarters to host a few beehives and, in the process, help rebuild the bee population, according to an article in Inc. Bonner wants to do her part to help reverse the trend that has arisen due to changes in agricultural processes, habitat loss, and pesticides. Her company, Bee Downtown in Durham, N.C., installs honey bee hives on the grounds of corporate headquarters. Burt's Bees, Delta, Chick-fil-A, Intercontinental Exchange, and IBM are among the companies that have signed up to host hives.

Companies get to be beekeepers without having to do the actual work of maintaining hives or collecting honey. Plus, they get to offer employees a corporate perk with a social impact. Bee Downtown suits up employees to interact with the bees so they can understand the importance of sustainability and agriculture.

Read: Keeping sustainable buildings operating sustainably

Instead of starting with a plea to help save the bees, she starts with what's in it for customers: Bee Downtown is a simple and fun way for corporations to get their employees involved in a sustainability initiative. Employees love it because they get to learn about beekeeping and biomimicry, which is learning how to solve problems by imitating how nature solves them. Plus, they get free honey to take home.

Companies love it because they get detailed stats on the local environmental impact they're making. One honey bee hive can have more than 27 million pollination events each day, Bonner says, adding that there are almost 56 connected miles of pollinator habitats in the Raleigh-Durham area. The impact spreads far beyond the pollination of flowers and plants. Bonner says that 83 percent of employees say the hives make them more proud to work for their company, and over 95 percent say it was the favorite employee engagement activity of the year.

This Quick Read was submitted by Dan Hounsell — dan.hounsell@tradepressmedia.com — editor-in-chief of Facility Maintenance Decisions and Facilitiesnet.com.
---